NCIX Canada: Microsoft Wireless Desktop Only $20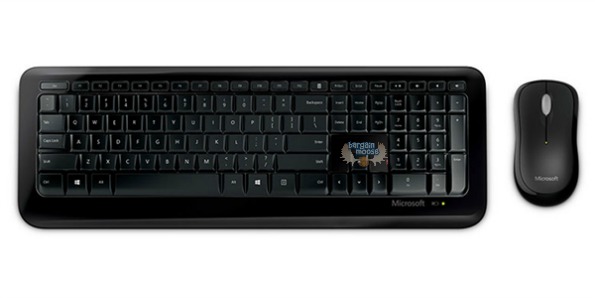 If you need a wireless keyboard and mouse, look no further than this deal from NCIX. Get the Microsoft wireless desktop 800 for business for only $19.99 with a regular price of $39.99. You'll also get free shipping too!
I just recently switched over to a wireless keyboard and mouse and wow, what a difference. I can't believe I didn't do it sooner. I struggled with the wire on my mouse every single day, as it usually got in my way and I had to move it. My husband gave me one he didn't need and I can't say how much I love it. It is also nice for packing on trips away as there are no wires to get all tangled in my bag.
I'd give you an overview of the product, but how much is there to say about a keyboard and mouse except that it works? It has a secured wireless connection of up to a 30 foot range and the cursor is very responsive. The keyboard sports frequently used hot keys and has zoom and audio controls. Your mouse also has a battery life indicator, which, for an unorganized person like me is a life saver.
Of course I price compared this unit to show you how you are getting the possible price. I found it at a number of retailers. Walmart has it on sale for $29, NewEgg has it for $26.99 plus $7 shipping, Dell has it for $39.99 and Best Buy has it on sale for $29.99. There are quite a few other stores that also have this unit in stock, if you wanted to continue the research, but NCIX always had the best price. Even the stores that have it on sale or clearance didn't beat this price so NCIX definitely knows what it is doing.
There are a few reviews under the review tab, which give it about a 4 out of 5 stars. The main complaint is that the function keys are small. The main pro was that it is cheap and works and I'd have to agree.
(expiry: unknown)