NCIX Canada: 70% Off Simple Audio LISTEN Stereo Speakers with Bluetooth - Was $500 | Now $129 (& Free Shipping) (EXPIRED)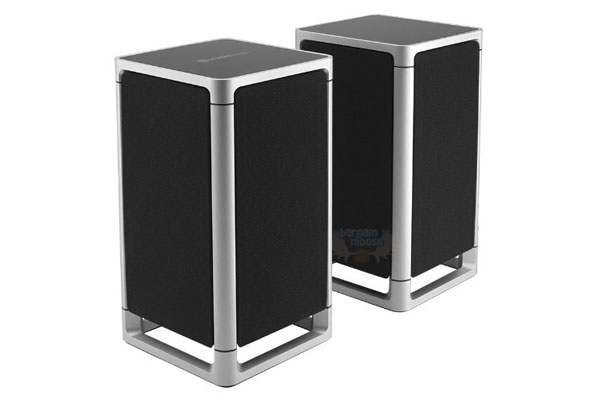 * BUMP - a further $20 discount since this was first posted - they're now down to only $129 with free shipping! *

NCIX Canada has a hot deal on the Simple Audio LISTEN stereo speakers with bluetooth. Originally priced as high as $499, they're now 70% off and can be yours for just $149 $129. This includes free shipping and a 298 bonus NCIX Rewards points.
The fact that these speakers were originally priced as high as $499 is really quite impressive, although at Amazon.ca, they are currently on sale from $349.77 from an original list price of $549.99.
In any case, this is a fantastic deal, especially since shipping is included. There is no word on when this deal might expire but my guess is that it's probably "while supplies last".
I'm not the most savvy when it comes to speakers and so I tend to judge the quality of these from reviews. Out of 18 reviews, the Simple Audio LISTEN speakers actually have a recommendation rate of 94%. That's really quite awesome, especially since some reviewers labels these speakers as being some of the best ones, especially for the sale price. Here's what one reviewer had to say about them:
These are a good buy when on (huge) sale, but there are other comparable systems around the $200 mark. They sound very nice with enough bass by themselves if you're just sitting at a desk. I use them for my TV & PS4.
According to another reviewer, these are comparable to $200 speakers on the market and yet other reviewers claim that these also stand up very nicely to BOSE ones, which are considered to be some of the very best ones that you can get (these do however come with a pretty hefty price tag as well).
If you have been looking for quality speakers but haven't been wanting to shell out more than a couple of hundreds of dollars on them, then these ones are a hot must-buys. They offer a 40W per channel class-d amplifier, along with a fully integrated DPS and digital signal path.
The interface is also a touch-enabled one, which is definitely a handy feature to show off to guests. ;)
(Expiry: Unknown)