NCIX Canada: 50% Off Kingston 32GB microSDHC Flash Card - Now $16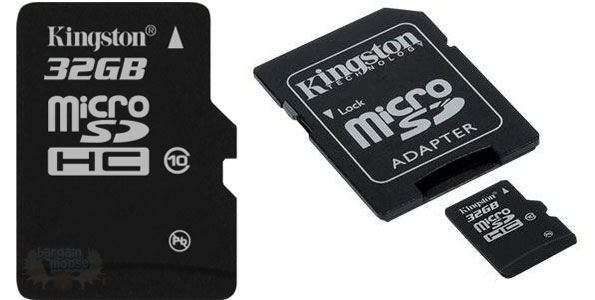 Need a new memory card? Then grab the Kingston 32GB microSDHC flash card while you still can. There are limited quantities available and during the next couple of days only, it's down by 50% to just $15.98 instead of its regular price of $30.98.
This memory card is a class 10 UHS-I with 10MBs minimum data transfer rate. On NCIX's site, there are 5 reviews with a general consensus of 4.6/5 stars. Here's what one reviewer had to say about it:
Good for your Smart Phone! Works well, and Fast for 1080p Video recording too.
And here's another one:
A basic micro sd that works great at a great price. I haven't tested out the read and write speed yet but it seems to be good enough.
Since another reviewer purchased this memory card to use in a dash cam, I'm tempted to get it for this purpose as well. I gave my father a dash cam for Christmas and since it didn't come with a memory card, he asked me to look around for a good deal and this one is definitely worth taking advantage of, whether to use in a dash cam or not.
If you need even more space than just 32GB, then check out the Adata premier micro SDXC memory card at Direct Canada as it's on sale for $30.98 (reg. $44.99).
I found this same flash card on sale for $19.99 (reg. $39.99) at the Microsoft Store but although it would have included free shipping, it's already out of stock. Staples is currently selling it for $39.92. Speaking of shipping...
Shipping
The only downside to this great deal is the shipping cost but on the bright side, it qualifies for express shipping, which is of $8 and should only take 1-2 business days to ship. To avoid this pesky cost, you can use the NCIX coupon code: FAMILYDAYSHIPPING until February 15th to get free shipping if your cart reaches $50 or more.
NCIX is also currently offering free shipping on any order with purchase of select Intel products such as a processor, an SSD, etc. Check all of these out here.
Alternatively, it can also be picked up for free from the NCIX location in Ottawa on Woodroffe Ave.
(Expiry: 18th February 2015)