Moto 360 Was $280 | Now $180 & Free Canadian Shipping @ Google Store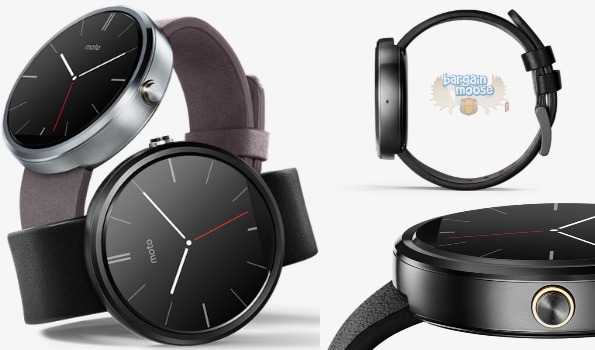 Android users should check out this deal for wearable technology today, over at the Google Store. The Moto 360 was $279.99 but now is only $179.99!
I have to admit, I had no idea the Google Store was selling devices directly in Canada. I usually think about the Google Play Store, and the Google Store has slipped under my radar. To find out what electronics are available to us in Canada through the Google Store, check out this list here. Even better, right now there is an amazing discount for the Moto 360.
The Moto 360 is an ultimate, top of the line smartwatch. This watch has a scratch-free glass screen and a leather band. Use this as a command centre to preview your messages while your Android device stays in your pocket or bag. This device doubles as an activity tracker with a built in pedometer and heart rate monitor. Track your progress directly through Google Fit, and even connect to the Google Play Store to listen to stream tunes while you work out. This watch also connects to Google maps, and can double as a GPS device... from your watch! Seriously, my watch could give turn-by-turn directions? This watch is compatible with Android devices, but sadly is not yet cross-compatible with iOS devices.
Price Comparison
The only price I found that was anywhere close to the Google Store was over at Telus, they have the Moto 360 on sale for $199.99. At Best Buy Canada, this watch is on sale and has dropped to $249.99. Videotron is selling this watch for $279.95. You could also buy this directly from Bell.ca for $279.99. Amazon.ca has this watch for $279.99. This is an amazing price at the Google Store.
Reviews
Reviews overall are positive for this watch. I have looked at a couple other smartwatches, and this one by far has the happiest reviewers. Here is one review over at Best Buy that may just convince you it is time to buy this watch.
OK...I had some inaccurate perceptions of what a smartwatch can do.....no, it's not a smartphone on your wrist! It's your phones notification center and a limited controller of your phone... and it does this wonderfully! I like to exercise. With the Moto 360 if a message notification comes in I just flick my wrist... Plus it's a beautiful comfortable watch I LOVE IT!
Shipping
Google Store is currently offering a free shipping promotion that means this item ships completely free. I was a little concerned about duty costs, as I could not find it stated directly on Google's website. What they did say is that orders ship via UPS, Purolator or Canada Post according to the Find Your Country's Estimated Delivery Time drop-down menu further down the page. From reading various Canadian customer accounts around the web, you should not be charged any customs fees at your door. Other buyers have reported that Google absorbs those costs and that there are not duty fees at the door. There is still a chance duty fees could be presented, but I would say your chances are low overall.
I have never ordered from the Google Store directly, but this highly sought after smartwatch is very tempting. Google is generally very on top of things. Even their checkout feels clean without a fuss. This is the lowest price I have seen for this awesome watch yet. My husband would be thrilled to receive this as a Father's Day gift.
Bargainmoosers, can any of you comment as to how your transaction with the Google Store went?
(Expiry: Unknown)