Microsoft Canada Store: 50% Off Boombotix BB2+ Bluetooth Speaker - Just $29.99 - Day 3 of 12 Days Of Deals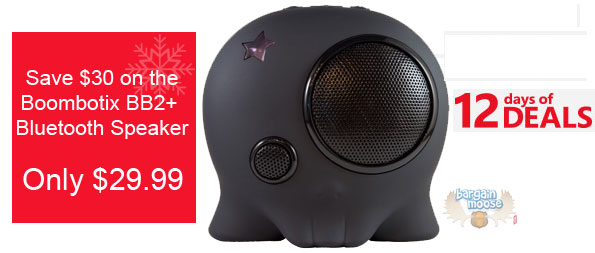 BargainMoose's No Minimum Monday event the day before yesterday also coincided with the launch of the Microsoft Store's 12 Days of Deals and although the first two days of deals sold out incredibly fast, we received advanced notice of today's deal so we're putting this post up right now. The offer might not yet be live on site but we have been informed that they sell out very fast, so we're making this post now to alert you to get it fast.
Built to withstand the abuse of just about any lifestyle, this incredibly loud little Boombotix speaker will officially be on sale for $29.99 instead of its regular price of $59.99 (50% off) as of 10am EST. It is also available in 3 colors: red, black or white.
In terms of price comparison, this is the only other Boombotix BB2+ I was able to find on the market right now. Amazon has an older version available, the Boombotix BB2 SPKR Gunmetal, and even then it's priced as high as $103.64.
Though it might look like a techy and super complicated gadget, it actually can either be plugged in to just about any audio player or used via Bluetooth. Gone are the days of using super huge speakers to entertain guests with music during dinner parties as this little speaker will provide good sound at high volumes.
No worries if you miss this deal as there will be plenty more opportunities to save in the days to come, all the way until December 20th 2013.
And the best part? The Microsoft Store always ships orders absolutely free with no required minimum! I have to admit that I have already set an alarm in order to get two of these awesome little speakers: one for myself and one for friends. Will you be doing the same?
(Expiry: 11th December 2013)