Microsoft 12 Days of Deals: Jawbone Mini Jambox $69- (Save $61) (Expired)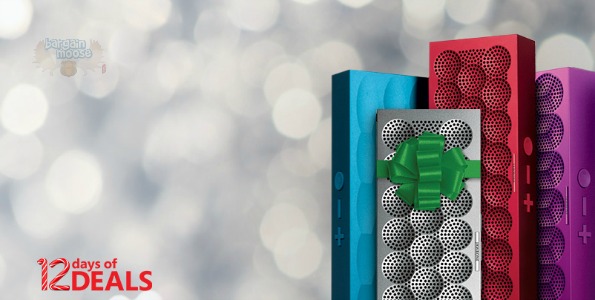 Microsoft's 12 Days of Deals are on right now and they are throwing out one big deal per day. Today's deal is the Jawbone Mini Jambox for just $69 with free shipping, originally $129.99.
Here are the price comparisons from other retailers that I found:
$140 @ Chapters Indigo Canada
$139.99 @ The Source Canada
$129.99 @ Amazon Canada
While this speaker is not available at all of the usual electronic retailers, wherever it is available the price is substantially higher. I am talking the retail price at Microsoft and above that!
There are several colour options for you to choose from. Purchase the purple snowflake, graphite hex, or the blue diamond. Three other colours are already out of stock so you know this deal is selling quickly.
Now, this device is small enough to fit in your pocket and pretty light too. However, it packs incredible sound and has a decent length battery for listening time. The mini Jambox also works with any device with a headphone jack or audio line out if you do not have a Bluetooth enabled phone or MP3 player. The Bluetooth reception is good for about 10 meters or 33 feet. Are you curious about the sound quality? Here is what Microsoft has to say:
MINI JAMBOX has two front-facing proprietary drivers to direct sound, two active drivers (stereo pair), and a passive bass radiator producing amazingly clear, high-quality sound for its compact, portable size.
That sounds pretty impressive. I would love to get my hands on the purple snowflake design as it looks beautiful and it could be my truly portable external speaker. Sure, my Sony SRS-X5 is incredible, but it is not something I would stick in my purse and take to the beach or the cabin. The speaker is far too heavy and I would be concerned about it getting damage. The Mini Jambox is a portable little monster you will be glad to have in your hands.
There are three sizes of Jamboxes - with the mini being the smallest. In the future, you could always get one of the bigger models to match your smaller speaker.
(Expiry: 12th December 2014)