Manker Boney Keychain LED Flashlight only $6.91 & Free Shipping @ Gearbest!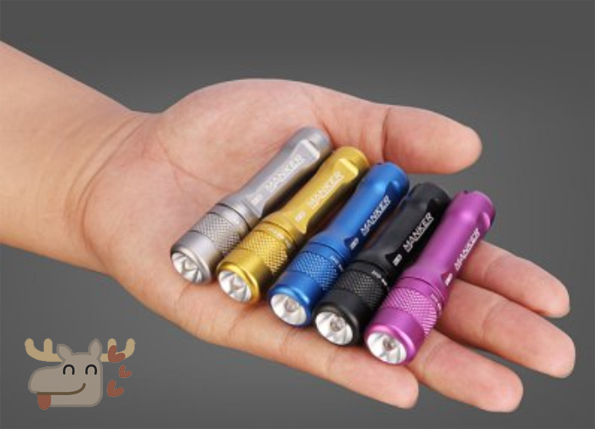 The Manker Boney Keychain LED Flashlight is a cute little torch, currently on special offer online @ Gearbest.com. It was $9.45 and you can grab it for only $6.91 with free Canadian shipping just now!
That's a 27% discount on the original price. The flashlight comes in a choice of five colours, as you can see pictured in the image above. I'd choose purple!
You can buy the exact same flashlight on Aliexpress for $9.82 here, so that's a couple of bucks more expensive.
I like the fact that this flashlight takes one AAA battery – most of us have a stock of spare AAA batteries lying round the house. You get some flashlights like this which take those little watch batteries instead – they can be awkward to replace.
A couple of weeks ago, Avigayil wrote about a deal on the Afunta mini-flashlight on Amazon, which was a little bit cheaper than this – but the deal didn't last for long. If you search for LED Flashlights on Amazon.ca, the Afunta is the closest comparable item and it's now a minimum of $7.83 on there (if you select the cheapest reliable third party seller – just take care, there are a lot of brand new unrated sellers on that listing).
Gearbest quite frequently releases coupon codes, but I tried a few on this flashlight and they all INCREASED the price of the deal! The current 27% discount is higher than any coupon code deal.
Gearbest.com ship from outside Canada, but as this item is quite low in value - you don't have to worry about any extra customs or duties at your door. If you're ordering more than a few of these flashlights, I'd recommend that you keep each individual order under the $20 threshold to make sure of that. E.g. Two flashlights per order.
It can be very handy to have mini-flashlights stashed around your house for emergencies, or even for taking with you when you are travelling in the car or camping. They're cheap and effective, and you don't have to worry about losing them as they cost so little in the first place.
I actually have a very similar flashlight in a little drawer here in my home office – if there's a power cut or an emergency, I can just grab it with ease. :)
(Expires: unknown)