Logitech X100 Bluetooth Wireless Speaker Was $40 | Now $20 + FS On $25 @ Best Buy Canada (EXPIRED)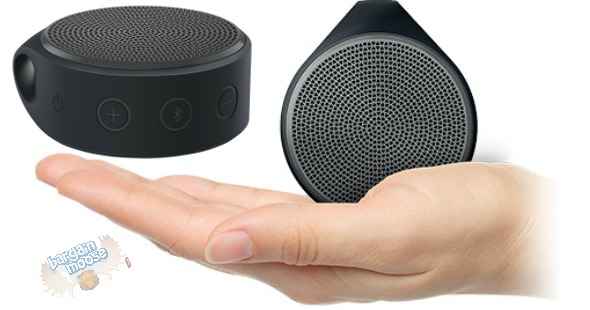 While gardening I often wish that I had a little portable speaker so I could listen to my music without leaving my phone out in the sun or with the potential risk of getting wet. The Logitech X100 Bluetooth Mobile Wireless Speaker is on sale at Best Buy Canada right now for 50% off. Where you would have normally paid $40, you will now pay just $19.99. Best Buy also offers free shipping on orders over $25, so you only need a small filler to get that offer as well.
Snag this offer quickly if you want it, it is valid today only but who knows how long supplies will actually last. The Logitech X100 Bluetooth Mobile Wireless Speaker is a small portable speaker that is designed to bring you big sound. You won't find any other Canadian retailers with a better price right now, so snag this from Best Buy Canada for just $19.99. Take a look at the price on this Logitech X100 Bluetooth Mobile Wireless Speaker at other Canadian retailers:
Unfortunately this awesome price only applies to the grey model of this Logitech speaker. The other colours are still double this price. But does colour really matter? This device can connect with any Bluetooth enabled device from up to 30 feet away. You can even control the volume or answer phone calls from your mobile device. The Logitech X100 Bluetooth Mobile Wireless Speaker has a five hour battery life - so it can be the life of any party. Once the battery runs low, simply connect the device to a charging unit with the micro USB cable. The built-in rechargeable lithium ion battery is included and already installed and ready for use. Most electronics do require about 12 hours of charge time before use though, keep that in mind.
Your best bet would be to find another small filler for your order, since BestBuy.ca offers free shipping on orders over $25. You are just $5 away. You could add a second speaker to your purchase, perhaps it would make a great Father's Day gift if you are still on the hunt for something that says "I love you Dad". My dad works in his garage a lot, so this would be something he could keep in the garage so he could listen to his music without having his phone in his hand.
Hey Moosers, where do you plan on using your new wireless Bluetooth speaker?
(Expiry: 6th June 2015)