LeSportsac Classic Hobo Bag Was $85 | Now $40 & Free Shipping @ Best Buy Canada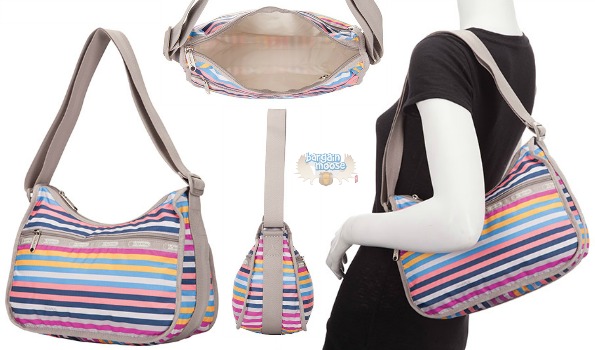 Check out this cute bag for spring! The Classic Hobo by LeSportsac was $84.99, but is now on sale for $39.99. This bag will take you through all of your spring and summer outings and will match everything in this bright and cheery striped pattern. This item also meets the minimum to ship for free.
I love this cheery hobo bag on sale at Best Buy Canada. A bag like this just screams "welcome warm weather". I currently have a red leather bag I have been sporting lately that I love, but I went out on a limb with a bright pink spring coat and now they clash. This hobo bag would match my coat and any other casual spring outfits without having to change bags continually. I am not a change my bag everyday kind of girl. I prefer to have one main command station, and then change it up when I go out somewhere special.
I keep imagining this bag on the side of the pool or the edge of a tennis court. This bag also looks like it would hold up well to throwing it on the grass or to the wear and tear kids do to your bag. While I tend to prefer a bag with lots of structure, I can make an exception for this colourful striped hobo. The strap on this bag is adjustable, and it looks like you could wear it over your shoulder or as a cross-body. The main enclosure and pockets all have a zipper, keeping your stuff altogether. This also comes with a separate small matching zippered pouch. That can be handy for grabbing just a few small essentials on the go.
Over at Hudson's Bay, a few versions of this bag are available including a solid black or flower pattern for $71.20. Amazon Canada has a similar striped version of this hobo bag in slightly different colours for $64.53. I am not finding this particular brand many other places in Canada.
I was not able to find any reviews of this bag at Best Buy. It says it is a new item right on the title so that is probably why there are no reviews. Over at Hudson's Bay two people have reviewed the same bag in black and both seem very happy with it. Here is one review:
Bought this to replace one that I had for years and finally wore out! It is THE most practical bag I have found. Love it.
There are several other LeSportsac Bags on sale at Best Buy if you want a little different style or pattern. I am also eyeing the LeSportsac Deluxe Everyday Bag in the same stripe pattern. This bag is a little bigger which may suit my hold all of my stuff better.  It was $96.99, but you can grab the deluxe bag on sale for $47.99.
Grab your favourite bag quick. Best Buy Canada says right now there are only a few left and the sale price on all of these bags expires tomorrow.
(Expiry: 30th April 2015)