LeapFrog Canada Coupon: Save 20% On Road Trip Essentials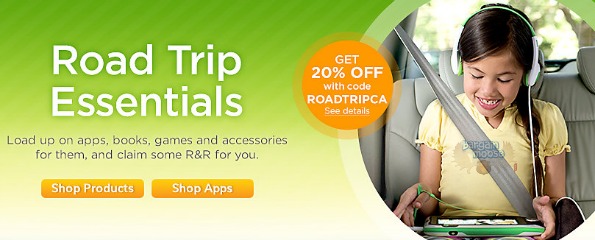 Every once in awhile, Leapfrog Canada puts out coupon codes, and when they do, I like to take advantage of them.  Right now, they have a new coupon code out that will save you 20% on any app, books, game cartridge or accessory for just a few short days.
Click here to shop @ shopleapfrog.com now
Coupon Code: ROADTRIPCA
Discount: 20% Off
Expiry: 19th May 2014
Basically, this coupon code will save you 20% on apps, accessories, books and game cartridges, which is almost everything they sell. They have this coupon in honour of the approaching long weekend and all of the road trips that families will be taking.  I also think some of their items would be great for those rainy days that you are stuck inside your trailer when camping.
I just love Leapfrog products for my kids, so we have a lot of them at our house.  The Leapreader books are great for kids and so are their Tag junior systems for reading. Not only are they educational, so get kids excited about reading, but they are fun as well.  They incorporate all sorts of popular characters such as Lightning McQueen from Cars and the Disney Princesses. My boys don't even realize they are learning because they are having so much fun.
As for the cost of shipping, you will get free shipping for all orders of $60 or more.
If you are looking for all of the latest Leapfrog coupons, they are all posted on the coupon forum.