IP100 IR Night Vision 720P HD Wifi IP Camera Only $39.99 & Free Shipping @ Gearbest (US)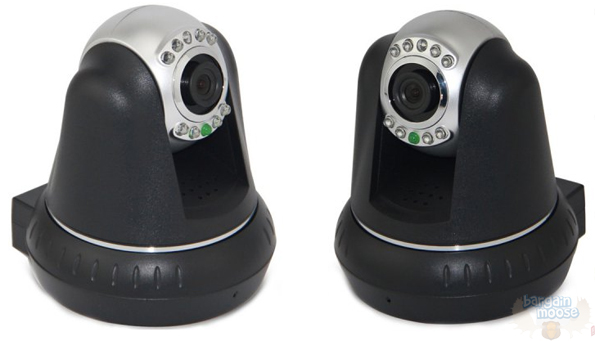 Over on Gearbest.com, the IP100 IR Night Vision 720P HD Wifi IP Camera is on special offer this week at 47% off, only $66.51US, but there's a coupon code to drop the price even further enabling you to buy this handy little item for only $39.99 with free shipping!
Click here to get the IP100 Camera @ Gearbest.com now
Coupon Code: GBIP100
Discount: $33.29 off the IP100
Expires: Unknown
Now, if you're trying out the above coupon code, please note that you have to be logged in to your Gearbest account to see the actual discount. I created an account and I still couldn't see the discount… and it turned out that I needed to click the activation link in my email, then sign in. Once I'd done that, I was able to apply the above coupon code for a $33.29 discount on the IP100 camera. It dropped to $39.99US with free Canadian shipping.
As for the camera itself, to put it simply – this is an infra-red night vision HD wifi IP camera with 120 degree wide angle lens personal security system. It works with your Android or iOS device (I don't believe it works with PC or Mac). A brief spec:
Resolution: 720P HD resolution
Special Function : Two-way audio function
IP camera performance : Motion detection
There are a couple of positive reviews on Gearbest too, with comments such as:
Good quality for a cheap IP camera. Night vision is good.
So for paying $40 for this type of thing, you're not going to get the clearest images with the most amazing security feed in the world. But if you're looking for a basic device which you can monitor a room in your house, maybe a garage or playroom, then this could come in very handy. I particularly like that you can use the iPhone app to access the camera.
We've not mentioned Gearbest on here before, but I've heard of them quite a bit in the past. If you're wondering about things like warranty and returns:
45 day money-back guarantee on faulty products
180 day free repair warranty
Just a quick note on customs and duties – this item will ship from outside Canada, so there's a chance you may be hit by extra fees at your door. The approximate delivery time is 6 to 14 business days… so it's not going to arrive super-fast.