71% Off HP Z4000 Wireless Mouse Was $35 | Now $10 @ Best Buy Canada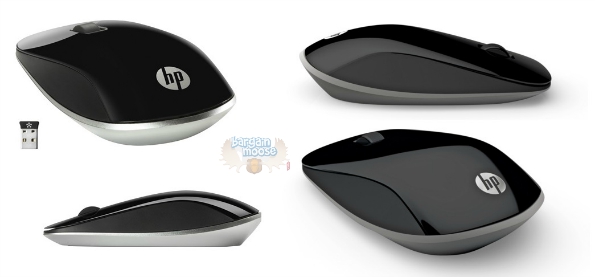 **Bump: this hot deal on a wireless mouse is back on at Best Buy**
The HP Z4000 Wireless mouse is on sale from $35 down to just $9.99 at Best Buy Canada during this two-day sale to celebrate the release of Windows 10. While Best Buy Canada's shipping minimum is $25, you can easily reserve this mouse for in store pick-up (free of charge) like my co-worker Brooke just did!
While the laptop track pad can get you buy when you are computing on the go, a mouse really makes tasks much easier. With a 'real mouse', drag and drop tasks, scrolling, and many other functions are far easier. I own three external mice: two of them are corded for gaming and the third, which I use the most, is a wireless mouse. I like my wireless mouse because I can use it on virtually any surface (except glass) including bedding, couches, books, and more.
When I saw this deal, I asked my co-workers if anyone still uses mice besides me. Evidently they do and my fellow blogger Brooke was even in the market:
I need one!! My dogs used mine yesterday as a tennis ball. Reserved a red one.
I love helping out! Personally, I would have purchased the purple one myself as it is one of my favourite colours. You can choose between red, purple, and black. All three mice are still in stock online and available for in-store pickup at the few postal codes I tested.
Easily navigate your computer display with this Z4000 wireless optical mouse from HP. At 13mm high, this thin and low-profile computer mouse is great for use with your slim laptop or tablet. It's designed to support both right- and left-handed use, with a cordless range up to 10 meters so you're free to roam.
This wireless optical mouse measures less than 13 mm high, making thin and lightweight for transportation. The mouse has a flowing arch with side grips. Whether you are left or right handed, this mouse will work for you. With 2.4 GHz wireless connectivity via a dongle receiver; you can operate the mouse up to 30 feet (10 metres) away from your computer.
The mouse comes with two AA batteries, which will last up to two years. I price compared this mouse with HP where it retails for $34.99.
(Expiry: 17th July 2015)