HP Speaker System @ HP Canada, $40 + Free Shipping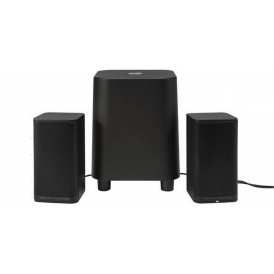 My Dad always lugs a portable (but heavy) speaker around his house—from the living room, to the kitchen. Back and forth. He does this so he can listen to Spotify and watch Netflix with better sound than on his phone speakers.
I'm convinced that he should get the HP S7000 2.1 Speaker System for the living room. He could then keep the portable speakers in the kitchen permanently. These speakers are 40% off right now, selling for only $40 down from $70. HP Canada also offers free shipping on their entire website with no minimum. It's great how they do that!
The sound on this HP speaker set would have just the right kick when he plugs it into his phone using an audio cable. I might buy this speaker set now and surprise my Dad with it on Father's Day! I have always loved the HP brand; we have HP printers, laptops, and desktop pc's, and they have all been a rock solid purchase for us.
You could also buy this HP speaker set for yourself to use for your own desktop or laptop pc. I personally prefer using a 2.1 sound system for my pc instead of surround sound speakers because you generally don't have to fiddle around with sound settings as much for different tasks. I have also found that dialogue in movies tends to be more crisp and clear for me on a 2.1 system. With the included subwoofer on this HP S7000 Speaker System, you won't get tinny sound. You'll get a nice balance of bass with clear treble. For $40, it's definitely worth checking out this speaker system.
Shipping is free on this speaker system!

(Expiry Date: Unknown)