Honeywell Compact Air Purifier Was $119 Now $47.60 & Free Shipping @ Staples.ca!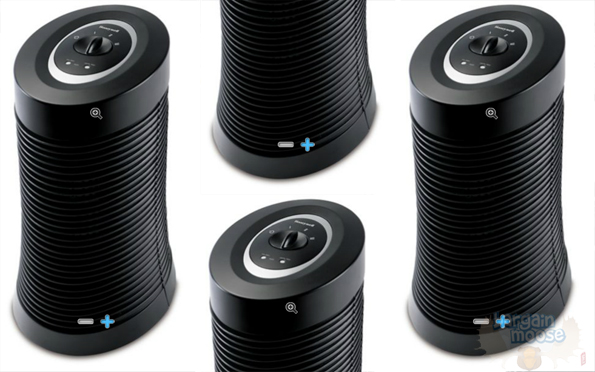 Sweet little price on this Honeywell True HEPA Allergen Remover Compact Air Purifier with Permanent Filter from Staples Canada today – it was $119 before and now you can pick it up for only $47.60. And that price also comes with free shipping!
Now, the expiry on this item says February. But, as we've seen with hot deals from Staples.ca in the past, the deal will only last as long as they have this air purifier in stock. If you are interested in picking it up at this low price, then grab it sooner rather than later.
Extra Coupons?
Staples often send unique coupon codes out to your email – if you're subscribed to their mailing lists, check your emails for $25 off $75 coupons and you may just have one that you could use on a larger order.
Extra Filters?
While this Honeywell True HEPA Allergen Remover Compact Air Purifier comes with a permanent filter, you can buy replacement filters for it in the future. It costs around $40 for two replacement filters here on Amazon and those should be replaced once a year. As far as I can read from the description on the Staples site, you already get an extra filter with the machine, so you shouldn't need to buy extra for a little while anyway.
Warranty?
Staples state that the Honeywell air purifier comes with a five year limited manufacturer's warranty. This is super! I'd just recommend that you make sure you keep your receipt and proof of purchase in case you have to make any claims in those five years.
Price Comparison?
I am not sure if I can see this exact model anywhere else online in Canada, but you've got the likes of this similar one for $80 @ London Drugs, this one is $99 from Amazon, or some here starting at around $70 on Walmart. I think we've got a sweet deal from Staples!
Extra Items?
As you're getting free shipping anyway, why not hit up the various sale section, such as here where they are offering an extra 30% off cleaning and breakroom supplies. While many of these seem to be more suited to an office, there are some good deals in there which can be good for domestic use also, such as snacks and cleaning fluids.
(Expiry: 3rd February 2015)