Hipstreet Titan 2 7" Google Tablet ONLY $50 Plus Free Shipping @ Walmart Canada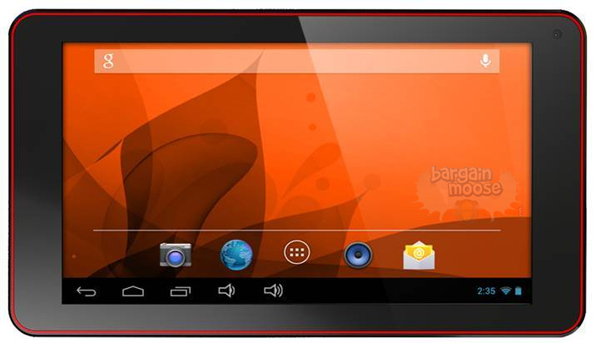 The Hipstreet Titan 2 7" Google Certified Tablet is on clearance today from $54 to $49.92 @ Walmart plus free shipping. If you order it today, you should still have time have it in time for the holidays. This one may go quick.
Generally any tablet or electronic with Hipstreet in the title is not going to be the most powerful device you have ever owned. If you are looking for an inexpensive tablet to use the web without many bells and whistles this might be the perfect deal for you. Here is a few of the important specs.
7" Touch Screen
8 GB but expandable to 32 GB if you purchase an extra Micro SD card (not included)
Runs Android 4.2 Jelly Bean
Up to 1.2 GHz processor
Built in speaker, front facing camera and rechargeable battery
Google Play Store option
10GB of free online cloud storage included
It's not a terribly powerful device but it is expandable with a micro SD. Plus this device is Google certified so you'll have app, movie and music options from the Google Play store.  If you just want to check e-mail, use Facebook and play a few games this device will do the trick. You can play a few movies on the go also if you do not mind a small screen, though I would recommend buying a SD card if that is what you have in mind.
This is the perfect device to hand to your kid. It's inexpensive, has some game options and the ability to play a few movies if you expand the memory. While I do not advocate tons of screen time for kids, everything in moderation. Yeah OK, my kid has been potty training playing on a tablet- sometimes bribery works. You may want to make sure you have a good case also to keep that screen intact.
If you were dabbling with the idea of an e-reader but didn't want to spend much, this is a good option also. You will not have the e-ink like you would in a Kobo or Kindle (which start at $65) but the Kindle and Kobo apps are available on the Google play store. I know some people do not like to read books on devices but for myself I find it extremely handy to have my books close. Especially that library book I was dying to read, it's due already? (Our library lets us check out e-books, does yours?) I am much more likely to pick up a book for a quick 5 minutes if I always have it with me on my device.
Reviews are mixed on this device. Some people hate it others love it with the caveat of "for an inexpensive tablet." One user has had one for a year now and it is still going strong for her kid to use.
Bought this for my daughter last year and honestly for the price it is awesome. You can download so many apps from Google play and we have not had any issues with it working. I do have to say the battery takes forever to charge, but small price to pay for such a cheap tablet.
Here is the price breakdown around the web for the same device.
$70 @ Future Shop
$70 @ Best Buy
$80 @ Staples
$100 @ The Source- but also includes a case
$120-$150 @ Amazon- depending on if you buy it from an outside seller or from Amazon directly
For the money you are paying, I would give this tablet a chance. Do not expect this table to run your small business, but as an entertainment device for really basic use this tablet will do the trick.
Expiry:  Will expire soon!