High Sierra Fatboy Backpacks Were $60 | Now $15 (FS @ $25+) @ Best Buy Canada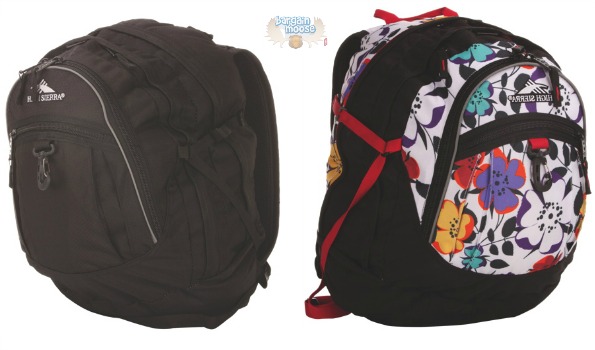 Ohh backpacks are on deep discount! Checkout the High Sierra Fatboy Backpacks. These packs in several different patterns were $60 and are on clearance today for $19.97. Best Buy Canada has a special promotion right now taking an additional 25% off all backpacks and luggage automatically in the cart, bringing your total to only $14.98.
If you need a new backpack, now is the time to jump. I see multiple different patterns today that are perfect for back to school (did I say that already) should you want to stock up early. The best news is if you still need a backpack for all of your summer adventures, there are some great options for that also. This High Sierra Fatboy Backpack is available in several different colour and pattern options.
Black
Flower Pop Crimson
Green & Black Pattern
Pink and Black Rose Pattern
Included with this backpack are several different compartments to help you stay organized. There is a media port with a slot to put your music device, which is handy for kids or adults. Both the back of this pack and the straps have extra cushioning to ensure comfort. I tend to cram a little too much in a backpack so that extra cushioning can help to save me from myself so my back does not ache as much later. There is also a one-year warranty on this pack to ensure it will make it a minimum of one school year, if not more.
Staples Canada is selling this same backpack in many different styles for $37.99. Amazon Canada carries this backpack in black, pink or camo colours for as low as $41.13. Sears.ca carries the similar High Sierra Opie Backpack for $59.99.
Shipping is free at Best Buy Canada if you spend $25 or more, so I recommend throwing something else you've been eyeing in your cart to qualify for free shipping. If your order does not meet the minimum of free shipping, you will be charged $4.99 for shipping.
If you are looking for a filler item for your order, I would consider the putting the LeSportsac Rectangular Cosmetic Case in the pattern snappy into my shopping cart. This cute small bag was $24.97 and is on sale for $14.97. With the extra automatic 25% off it is a grand total of only $11.23. LeSportsac makes quality items, so you can be sure this little tote is not going to fall apart. I had a cheapie cosmetics case that recently unravelled in my hotel room, and was left fumbling for something to hold my toiletries. Instead of being stuck searching for a new bag like I was for half my trip, pick up this cute bag instead to hold everything all together.
No one wants to think about back to school shopping yet. A good deal hunter knows though that it is best to strike when the iron is hot regardless of the season. I do not think that neutral coloured black backpack specifically will be around long. These also make a great diaper bag if you are the mom of an active toddler or multiple kids.
(Expiry: Unknown)