Green Man Gaming Coupon Code: 20% Off Watch Dogs & Other Titles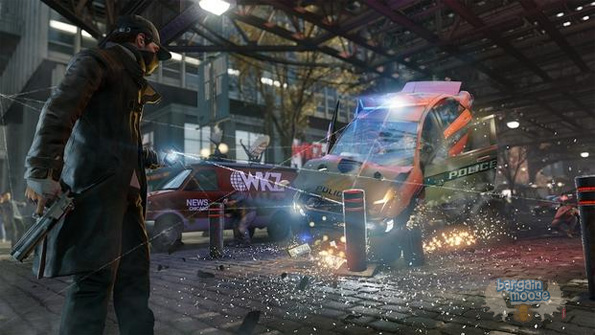 Just the other day, I wrote about Watch Dogs being available for just $58 (reg. $69.99) on the PS4 and Xbox versions of Watch Dogs at Dell Canada, but since Watch Dogs is currently the talk of the town --the gaming town, that is--, it looks like Green Man Gaming has decided to jump on the discounts bandwagon as well. For a limited time, you can use the code below to save 20% on the PC download of this cool new game. You can get the regular version for just $48 (reg. $59.99), the deluxe edition for $56 (reg. $69.99) or the season pass for $16 (reg. $19.99).
Click here to get Watch Dogs for PC @ GreenManGaming.com now
Click here to get Watch Dogs Deluxe Edition for PC @ GreenManGaming.com now
Click here to get Watch Dogs Season Pass for PC @ GreenManGaming.com now
Coupon code: UK3A0U-YOVK88-88EMC8
Discount: 20% off
Expiry: 6th June 2014
A game that just came out, Watch Dogs follows the story of Aiden Pearce as he manoevers around the city of Chicago seeking to avenge the death of his niece. As a hacking specialist, he is able to gain banking information and most notably control grid lines. Although I haven't played the game as I haven't invested in a PlayStation 4 yet, I'm nevertheless excited to try it out for myself because of the anticipation behind this game prior to its release.
For those of you who have never heard of Green Man Gaming before, it's a a site that has been offering thousands upon thousands of PC games since 2010. Although the vast majority of their titles fall into the the action category, they also have plenty of other types of games such as shooter, strategy, adventure, puzzle, RPGs and even educational.
The above code can also be used to save 20% on the following games:
Although it's only the third one and was actually released as far back as 1990, Final Fantasy is totally a game that I would want to play as well. A couple of years ago, I played the seventh instalment of this iconic franchise and since it was a game that I really enjoyed, it would be interesting to see how previous versions were designed and to find out more about the story.
Will you be playing Watch Dogs?