Gorgeous Dell Netbook Only $299.99 @ Best Buy Canada!
(Expired)
I don't usually post many techie deals, but this one is surely worth a mention. Best Buy Canada are offering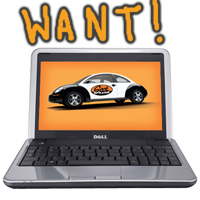 Taking a look at the netbook specification, here are the main things worth a mention:
Hard Drive: 8GB Solid State Drive
Processor: 1.6GHz Intel Atom N270
RAM: 1GB
Screen Size: 8.9"
Operating System: Windows XP Home
Of course it's not an amazing spec, but it's great for the money. If you were looking for a little portable computer for travelling, or even one for work or university, this netbook is ideal. It would be perfect for basic office applications, internet browsing, etc.
My friend recently got a little 8" netbook. It's so cute! I lug around a 14" laptop when I'm travelling, and these little netbooks just make it look like a big black brick!