Get the LG 28" & 55" TV Bundle For Only $800 @ Canada Computers!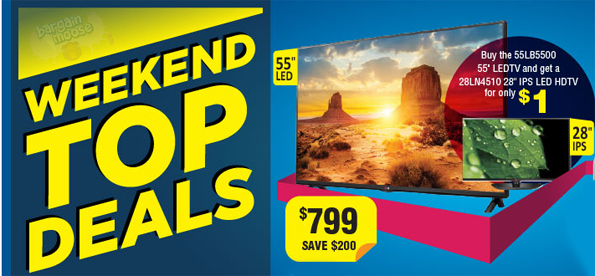 I've spotted a hot deal on the Canada Computers website this weekend, it's a bundle deal for the LG 55" 55LB5500 and the 28" 28LN4510 TVs. When adding both TVs to your shopping cart, they appear with a combined price of only $800.10!
Once you have added the above LG 55LB5500 to your shopping cart, go here and add the LG 28LN4510 as well. The bundle deal is calculated in your shopping cart, and this is what you should be seeing:

I think this is a really hot deal and stock might not last for long. Total price for the two TVs was around $1250 beforehand, so that's a $448 saving – excellent deal.
I think this deal would suit you if you were looking for a deal on a new television. Then, you could also use the second television in another room, perhaps a den, bedroom or even in a bathroom!
Price Comparing
When doing a price comparison from other Canadian online retailers, the LG 55LB5500 alone is priced at $887+ elsewhere, with most stores having that LG 55" TV around the $1000 mark. As for the LG 28LN4510, it's not sold at many stores, but it's coming up at $250 @ Visions.ca. The bundle price from Canada Computers is excellent on this deal.
What About Shipping?
If you live in the GTA, you're sitting pretty, as it is totally free through a retail store purchase (I think that means when you collect at store?). But what about other provinces? I did a test order elsewhere and shipping was appearing at $33. Even with that level of shipping cost, it's still a really superb price for two top brand-named TVs.
Reviews?
I also googled for some reviews on the main item in this deal, the 55LB5500 TV. Some user excerpts from a review on Costco.ca:
Overall I'm quite happy with the TV. The picture is nice and sharp. The colours are vibrant.
The above user did have some issues with the placement of the mounts on the back of the TV. His full review is here if you are interested in reading it.
(Expiry: 14th or 15th September 2014?)