Garmin Nuvi 250 GPS Bundle $129.97 @ The Source By Circuit City!
Do you get lost a lot? Do bad directions cause no end of arguments when travelling? Sounds like me!!
If so, it might be worth investing in a little GPS device for your car. The Source By Circuit City is offering the Garmin Nuvi 250 GPS Bundle for a measly little price of $129.97.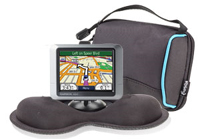 Remember, you can order online and collect at store, provided you can find your way to the store without use of the GPS!!
The GPS bundle from The Source seems to have quite a few things that you might need to get you started. As well as the Garmin Nuvi 250, you also get a portable dash mount, and a sports case to store the whole lot in.
Looking at the reviews of the Garmin Nuvi 250 on The Source's website, the customer comments seem to be very favorable, with comments such as:
This is an awesome little unit!!
I like the fast boot time, clear voice and bright screen.
Excellent value for the money and great support from garmin....
Looks like a good little GPS for the money!