FutureShop Canada: Boxing Day Deals & Flyer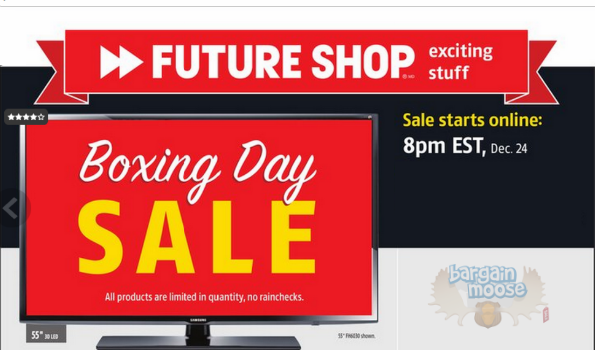 Put on your gloves, pick out your favourite trunks and get some awesome Boxing Day deals at FutureShop!
There are lots of good deals here, so let's get right into them:
Those are just a few specific deals, but there are tons more, including a lot of really good TV deals. All iPads are also on sale, and there are even some great deals on appliances. I will mention that the video game deals were kind of junk, but that's expected with a couple of new consoles on the market.
I did some price comparing and pretty much everything is a legit deal. The "before" prices are inflated a bit on a lot of the items, but that doesn't make the "after" prices any less great.
The deals go live on the 24th online and in stores on the 26th December 2013. Some stores are opening early on the 26th, so call your location to see when they open. Shipping is free on orders over $20.
Here is the full Future Shop Boxing Day flyer:
If this isn't getting you going, check out the BargainMoose Boxing Day Dashboard.