Future Shop: Guardians Of The Galaxy Rocket Headphones Was $25 | Now $15 (FS @ $25)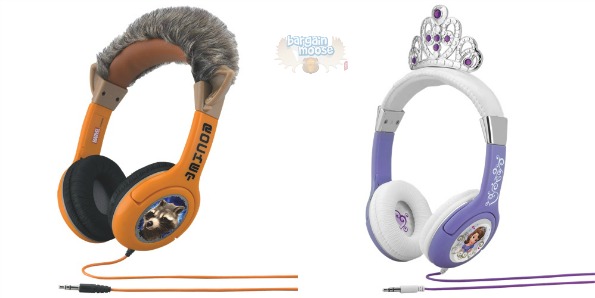 Future Shop is offering $10 off select children's headphones right now. I was immediately impressed when I saw this set of KIDdesigns Guardians Of The Galaxy Rocket On-Ear Headphones on sale from $24.99 down to $14.99.
The headset features faux Rocket Raccoon fur and cute little raccoon ears as well. The orange headset colour is the colour that Rocket wears all the time. The earpieces feature a picture of Rocket and his name is written on the headset as well. The headset is an authentic Marvel licensed piece, and is wire to impress any Rocket Raccoon lover in your family.
Getting down to features, the headset has a softly padded headband with padded earpieces to keep your child's head comfortable. The headset is adjustable for comfort. This headset will connect to any audio device that uses the 3.5 mm plug (standard). In addition, the headset has kid-friendly sound levels so your child's hearing is protected. 30 mm drivers still offer clear sound and rich tones.
Now, I could not find this headset anywhere else in Canada - it just does not exist. However, all other headsets in this line like Minnie Mouse, Elsa from Frozen, and more retail for $24.99 so I think this is quite a good deal.
If Rocket Raccoon is not your child's hero, there is one other KIDdesigns headset on sale. KIDdesigns Sofia the First Princess Over-Ear Headphones retail for $24.99 and are on sale for $14.99 as well. The headphones come in purple and white with a silver tiara (with purple gems) on top for your little princess. A picture of Sofia the First Princess adorns the cups and there are beautiful decorations both on the arms and in the cups. I did find this headset at Best Buy, where it is currently on sale for the same price. In addition, I found it at a bunch of US stores as well for the following prices:
$16.99 US @ Amazon.com
$19.99 US @ ToysRUs.com
$19.99 US @ Barnes & Noble
Given these prices in the USA for the KIDdesigns headsets, I think they are a very good deal from Future Shop Canada right now.
Future Shop offers free shipping on orders of $25 or more. If you purchased two headsets, you would receive free shipping. However, you can also reserve in store and pick up for free. I think this is the better option if you are just buying one headset.
(Expiry: 19th February 2015)