Future Shop Canada: Paderno ProGourmet Cookware Set Now $189.99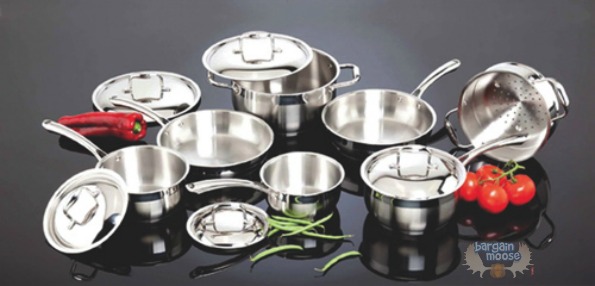 Future Shop Canada is selling the Paderno 12-Piece ProGourmet Cookware Set in Stainless Steel for $189.99 which they claim saves you $560 off the original price.
I use the word they 'claim' for a reason: because no one I could find actually sells it for the full 'original' price. I found a secondary seller on Amazon that was selling it for $370 but that is about as close as I got to that high of a price anymore for this set. The real price comparison is best with Costco.ca which currently sells the Paderno ProGourmet set for $239.99 which includes shipping and handling. Now, Future Shop's price is better than Costco's price by $50 so I believe this is a good deal.
The set includes:
1.5L, 2L and 3L saucepans
5L Dutch oven
3L sauté pan
24cm fry pan
5 covers
1 steamer insert
The set is suitable for all sources of heat including induction and it is dishwasher safe. The set is also backed by Paderno's unusual 25 year warranty.
You will receive free shipping on this set because it costs over $20.
(Expiry: 16th March 2014)