Future Shop Canada: $100 Off Coaster Writing Desk with Chair - Now $99.99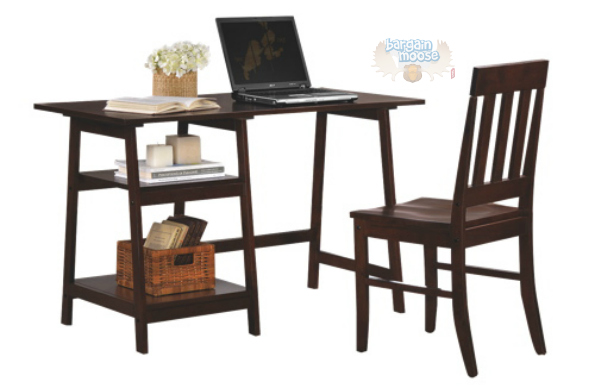 Save 50% on this Coaster Writing Desk with Chair in cappuccino. Originally $199.99, this writing desk with built in shelves and chair is now on sale for $99.99.
This is a pretty minimalistic desk and accompanying chair in wood. You have the top surface, and two open shelves to store books, writing accessories, a printer, or whatever else you need on them to reduce clutter on your desk. The chair tucks neatly under the desk when not in use and - of course - matches the desk for lovely set.
This is not the kind of desk you need to hide away in a back corner of the spare bedroom somewhere. It is a nice enough piece of furniture you could have it in your living room or den without it looking out of place. The set does require assembly when it reaches you. Most assembly is better with two people so grab a friend, a cold beverage, and turn up the music. It will be constructed in no time. Just pass on the wine or else it might be constructed with some missing pieces!
While some people are disregarding desks as a thing of the past - what with laptops and so many other surfaces available.  However, I still think it is a good idea to have a dedicated work space if you either work from home or have children who need the computer for their homework. I currently use my kitchen table because of space constraints. It makes it hard to set the table and get ready for dinner because my computer, mouse, and everything piled around me has to be moved off. It also makes it super tempting to be on the computer while I eat, which is not healthy for me or for my relationships. Furthermore, I am not sure the when the last time I saw the table entirely cleaned off was because my laptop and work stuff is always on it. Thus, I highly recommend a dedicated desk.
Oddly enough, the dimensions of this set are not given. However, I expect it to be quite compact given the image and the original price.
You will receive free shipping on this desk and chair set by Coaster because it retails for over $25, which is the free shipping minimum on Future Shop Canada.
(Expiry: 11th September 2014)