FREE Xbox 360 with Kinect When You Activate Two Smartphones at Rogers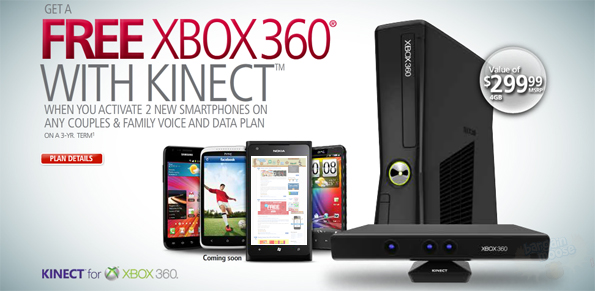 This deal comes around different retailers (often BestBuy) every once in a while in one form or another, and always catches my eye. This particular deal is a free Xbox 360 with Kinect from Rogers if you activate two smart phones on select three year contracts. If you only activate one phone on a three year contract, you can get the xBox 360 with Kinect for $149.99.
The phones that seem to be offered are:
Nokia Lumia 900
HTC One X
Samsung Galaxy S II LTE
HTC Raider
I feel like I've said this before but even I, as a Playstation guy, would spring for this deal if the timing was right. The Xbox for free on its own is a good deal but adding Kinect in there seals it for me.
It should be noted that the advertisement says "Select" voice and data plans. They say it is with any couple or family plan but select could mean anything so watch out. You can check out the deal on the Rogers website or go to the store.
Expires (Unknown)