FREE Minions Earphone Plug @ Cellution - BUG? (EXPIRED)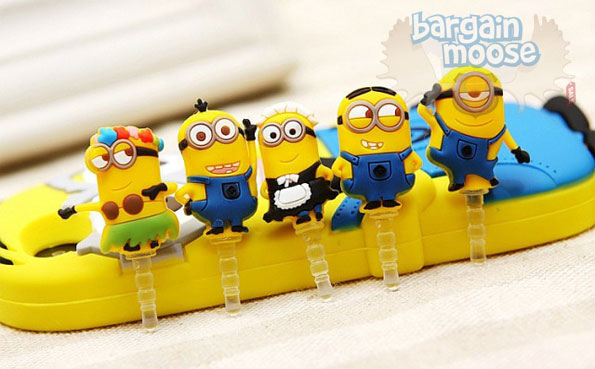 Minions are EVERYWHERE nowadays: from city buses, to posters and ads everywhere. This morning is no exception as you can pre-order a free Minions earphone plug from Cellution. Its value is of $4.95.
But you better hurry! This awesome little freebie has been exploding all over the internet this morning as no one knows if it's a bug on Cellution's site. There is also no telling if the orders will indeed be honoured but it's still worth a try since you don't even have to pay a single penny.
In case you're wondering what exactly you will be ordering as I have to admit that I was a little confused at first, it's essentially cute little minions that you can insert into an earphone jack to protect your device(s) from dust and other impurities. They're made out of silicone.
As you can see by the picture, there seem to be 5 different Minions available but there is no telling which you might get.
The best part is that credit card information isn't even needed! Simply click on "acheter maintenant" to buy it now, enter your shipping information and click on "paiement". Originally, I was thinking that would bring me to a page where I would need to enter my credit card information but nope! It immediately skipped to telling me that my order was complete.
There is also technically no limit as to how many of these you can pre-order but I wouldn't recommend order 100 as that has a bigger chance of not getting fulfilled. No matter how many you order, do keep in mind that there is a chance that this is only a bug, especially since it does say that it's a pre-order and that it would normally cost $4.95, plus $2.50 for shipping and any applicable taxes but wouldn't it be super awesome to receive this earphone plug in the mail without having paid anything? Antlers crossed! :P
(Expiry: Unknown)