Free Game ($40 Value) with AMD APU Purchase @ Newegg.ca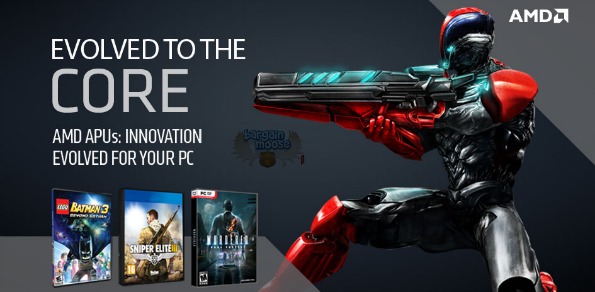 Receive a free game valued at $39.99 when you purchase select AMD APUs from Newegg.ca.
The cheapest AMD processor is already sold out, so hop your bottom over to Newegg Canada before the next cheapest is sold. Out. I recommend the AMD A8-7600 Kaveri Quad-Core 3.1GHz (3.8GHz Turbo) Socket FM2+ 65W Desktop Processor Radeon R7 series as it is on sale from $129.99 down to $114.99. I am not sure if shipping varies, but to my postal code on Vancouver Island, it would cost an additional $10.49. I checked on reviews and the processor averages 4/5 with 20 reviews. One reviewer said:
This is one of the best values of the processor world. I haven't encountered a game I couldn't play yet. Admittedly most of my games are from last year or 2012... but I believe with fast memory this processor can handle just about anything...
Now, you will get your choice of a free game with your purchase. You can choose from:
Murdered: Soul Suspect
LEGO Batman 3: Beyond Gotham
Sniper Elite 3
These are all PC games valued at $39.99 each. You do not need to pick the game when you checkout at Newegg.ca. Rather, when you redeem the code for the free game you will then choose which game to buy. Here is how to get your free game after you have purchased the AMD processor of your choice.
Go to www.AMD.com/amdrewards
Sign in or create an account
Follow the instructions to redeem your offer with the code you are provided
LEGO Batman 3: Beyond Gotham is the biggest draw in this list of games. The game is currently $29.99 USD on Steam Powered, and you know how the Canadian dollar is currently tanking. Convert that over to Canadian and it is nearly $36. This is a really cool action-adventure game where you play a super-hero trying to defeat the evil Brainiac who shrinks worlds to add them to his collection of miniatures. Reviews on the game are positively brilliant:
In brightest day, in blackest night,
I thought this game would be alright.
My expectations were passed with might,
You'll give it a try, if you're fairly bright.
Whoever wrote that is a genius. I would love to try that game out as I enjoy playing Injustice, which is another DC world game of battling with super heroes and super villains. This just involves Lego, and space, and rings.
(Expiry: 31st January 2015)