EXCLUSIVE: 40% off Dyson DC45 Refurb Cordless Vacuum, now $269.99 & Free Shipping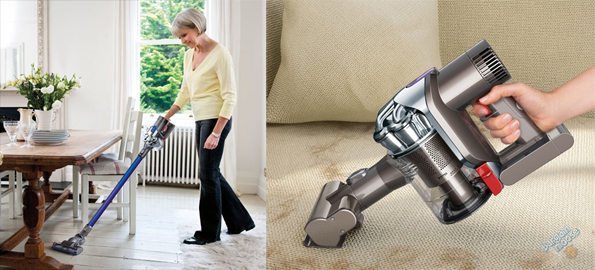 Here on Bargainmoose in the past, we've mentioned a number of times about the great deals that can be had from the Dyson refurbished store. Today, they've sent us an exclusive offer, only available to the Bargainmoosers through this special link below, and I think it's worth a mention. We included this in our weekly newsletter a few hours ago, subscribers saw it there first! You can purchase the refurb Dyson DC45 cordless vacuum for only $269.99 with free shipping, that's 40% off the regular price.
The DC45 refurbished cordless vacuum looks like a very handy little vacuum cleaner. As you can see in the image above, you can use this DC45 both as a long device for the floor, or as a little compact vacuum if you're cleaning things like sofas or even the inside of your vehicle. I'd be particularly interested in using this in my car… it gets so dusty inside and it can be pretty awkward to bring the full-size vacuum cleaner out into the driveway to try and clean the interior… so that process tends to only happen about once a year.
On looking at the features of this DC45 on the Dyson site, there are a few things which are positive aspects. The fact that this portable vacuum cleaner is bagless means that you don't have to worry about sourcing and buying bags for it in the future. Obviously, the drawback of this is that it's bagless… and you have to empty a canister from time to time which can be a bit messy. I like how this cleaner has two power modes; normal mode for 20 minutes, or boost mode for a powerful 8 minute clean. It also comes with a docking station which looks handy for storage and charging between uses.
If you are concerned at all about the refurbished status of this device, I wouldn't be. Refurbished means that it has been returned from the retailer. From previous experience, the reasons for this could be anything from it being an open box, a showroom display model, or returned by the customer.  Dyson completely re-work the machines, as well as thoroughly test them out, before selling them on to the next consumer. Usually, you'll find that with this type of manufacturer refurbishment, the product looks like a brand new device. As for warranty, this Dyson DC45 cleaner comes with a full one year warranty, so nothing to worry about on that front!
Anyone ever bought from the Dyson refurb store before? Please let us know in the comments below how it was for you. :)
(Expires: unknown)