Edifier S330D 2.1 Speaker Set Only $110 + Shipping @ NCIX Canada Now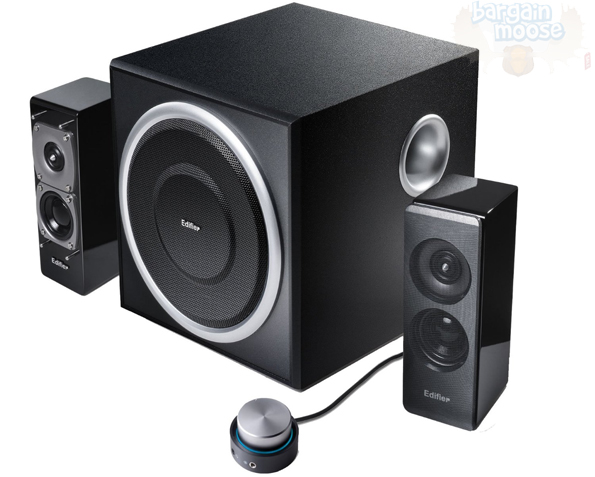 If you're looking for a new set of speakers for your computer or perhaps some other device in your house, check out the deal on this Edifier S330D 2.1 Speaker Set from NCIX Canada. The regular price is $179.99 but they're down to $129.99 right now, plus there's a coupon code to save an extra 15% on that price!
Use the coupon code speaker2014promo to get the Edifier speakers for $110.49. The coupon code slot is at the top right of the shopping cart page.
We're not sure when this particular NCIX coupon code ends. On that speaker's page it states the 23rd July, but on the coupon home page, it only says "limited time." If you happen to be interested in this deal, then I'd go for it sooner rather than later.  By the way, the coupon code should work on all speakers on NCIX, not just these particular ones.
A quick note about the speakers themselves:
Edifier Enterprises Canada Inc., the manufacturer of computer multimedia speaker, introduced their latest Signature Series S330D 2.1 channel audio speaker system targeting at those consumers that demand superior audio quality and overall power.
Sounds good!
Shipping Fees
The shipping rate depends on how much you are spending and where you live. I did a test order on these speakers to an Ontario address and it was coming up at nearly $20 shipping. That does seem quite high, but then you're only paying a total of about $130+ tax for these good quality speakers.
Price Comparison
I can see this particular model of speakers for sale at a number of other online stores, most stores seem to have it for around $150 to $160, some with shipping on top of that too.
Reviews
There are a number of customer reviews on Amazon, only seven. But five of those people give these speakers a five star rating. One member comments that the separate volume/power/audio jack control is awesome. It's true… I have one of these on my computer speaker setup and it's sitting on the desk in front of me. It's incredibly handy just to plug headphones in and out, without digging round on the floor behind the computer.
With this NCIX coupon code, it's saved on our coupon forums, be sure to check there before you buy!
(Expiry unknown, possibly 23rd July 2014)