Dell Canada: Save $750 on LG 47" FullHD 1080P 240Hz 3D LED Smart TV - Now $950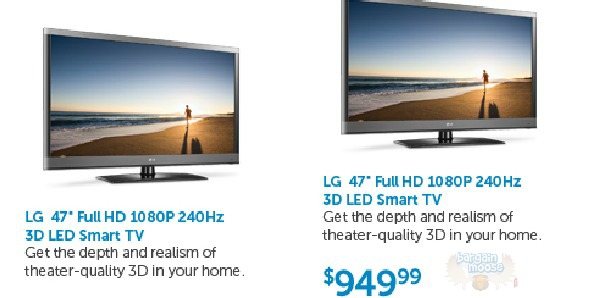 Dell has a huge discount on an LG 47" FullHD 1080P 240Hz 3D LED Smart TV! Get $750 off the original price.
The TV was priced at $1,699.99 and is now on sale for $949.99.That is a massive chunk of savings and you are getting one of the best TVs out there.
Some specs:
47" LG
Full HD (1080)
3D capable - comes with 4 sets of 3D glasses
motion control remote
...a lot more!
The latest reviewer gave the TV 5/5 stars with this review:
Excellent 3D TV with wire/wireless internet connection. Maybe because we are not picky people, we enjoy 3D movies. Internet connection with TV. Have some trouble in setting up DLNA, so finally get rid of this feature. Dell's service is great, but delivery company - Purolator offered bad services. :( Wish Dell select better business partner in the future.
A full HD and 3D TV with glasses for under $1000 is amazing. What a treat this would be for the family!
Expiry: Weekend only deal