Chapters Indigo Canada: 60% Off iHome iD48 iPhone, iPod & iPad Portable Stereo System - Was $99 | Now $40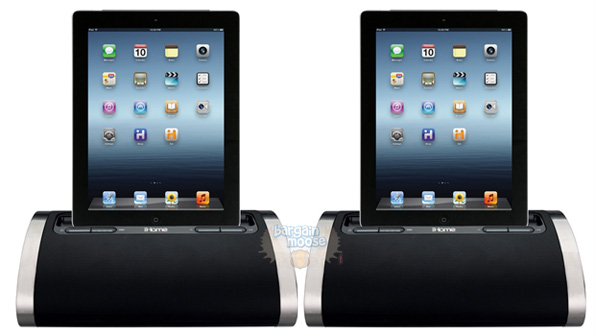 While quantities last, you can pick up an iHome iD48 portable rechargeable stereo system for Apple products for just $39.60. It originally retailed for $99. Shipping will also be free as Chapters Indigo ships all orders over $25 for free.
This is the cheapest price that we have ever seen for the iHome iD48. Back on Cyber Monday, it was reduced to $49 from $99 ($50 discount) and even then, it was a fantastic deal. Of course, now it's even better, so if you have been in the market for a portable stereo system for your Apple product, then now would be a good time to snag one.
This stereo system only works for: iPhones, iPads and iPods. It also features SRS TruBass circuitry and Reason 8 sound technology for an enhanced auditory experience.
The battery is rechargeable, so you won't have to worry about buying or looking around for batteries. When the charge is low, you can just plug it in, while continuing to enjoy your music.
If you're looking to use the iHome iD48 stereo system with an iPad, then you will be happy to know that it has a landscape mode. This means that you could just lay your tablet sideways to watch a movie or perhaps play music videos online.
Personally, I have an iPhone and I'm definitely considering picking up one of these considering the major price drop. Price comparing, I found this same stereo system going for $74.77 at Amazon.ca and approximately $58.54 on eBay.
There are no reviews on Chapters' site but on Amazon, there are two reviewers that each gave this stereo system 5/5 stars. Both reviewers had a lot to say about it, so here are small snippets of the lengthy reviews:
This is one if the better sounds systems that iHome has put out. It has great sound because it has both active and passive speakers (two of each).
And here's another:
iHome is a trusted manufacturer so I was not concerned about quality - it is well built and seems sturdy enough to handle transporting, as it is portable and able to work on its rechargeable battery. It is low profile and not as wide as the Bose. Its speakers are smaller.
Keep in mind that the iHome iD48 stereo system is only available online at Chapters Indigo's site and you won't be able to get it in-stores.
(Expiry: Unknown)