Cell Phone Wallets & Cases Only 96¢ & Free Shipping on 2+ @ The Source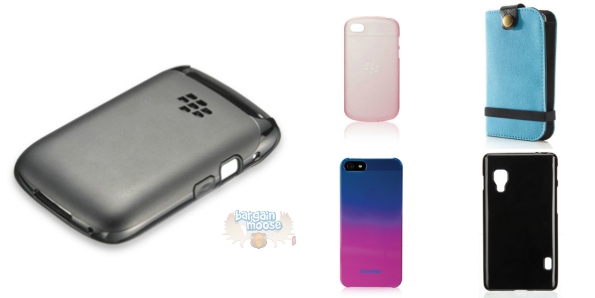 The Source Canada has a selection of clearance cell phone cases and wallets on clearance for just 96¢ each. While the original price is not listed, you can bet that it was much higher especially for brands like Skull Candy, Gnarlyfish, and more. Receive free shipping to your local store on any order and receive free shipping with coupon code TS499 when you purchase two or more cases. It looks like your order must be over $1 for free shipping with the coupon code.
The Skullcandy Spread Eagle iPhone Bi-fold Wallet (Black & Cobalt) will fit any size of iPhone (maybe not iPhone 6 though) and comes with money and credit card slots. As this wallet is so versatile and a great colour it is my favourite purchase for just 96¢.
There are three different colour choices for the next cell phone wallet by Skull Candy. the Skullcandy Handy iPhone Wallet comes in black/cobalt, black/grey, and black. It should fit all iPhones (maybe not 6?). The handy wallet has two credit card slots and a padded pocket for your cell phone. I have often found that similar sized cell phones will fit in wallets designed for iPhones. They are pretty versatile.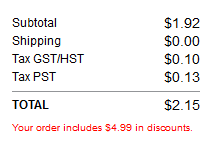 Next, the Gnarlyfish TPU Case For Lg Optimus L5 Ii Smartphone - Black is on sale for 96¢. This case fits a very specific cell phone but is quite the steal if you use this phone. Likewise, the Gnarlyfish TPU Case For Lg Optimus L5 Ii Smartphone - Blue is for the same phone: the case is just a different colour.
I am most excited about this Xtrememac Microshield Fade For Iphone 5/5s - Peacock Blue And Grape Jelly. I own an iPhone 5 and want to change up my case once in a while. Since I own a case it just doesn't seem right to shell out extra money for another. However, I am willing to pay 96¢ for one!
If you own a blackberry, you might get lucky with one of the following cases on sale for 96¢ each:
As you can see, there are plenty of great cell phone cases and wallets for a really cheap price!
(Expiry: Unknown)