Bonded-Leather Chair Was $110 Now $60 & Free Shipping @ Staples.ca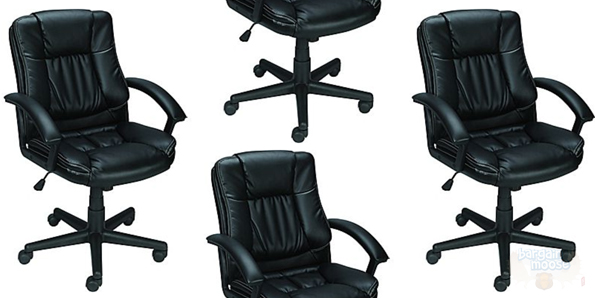 *** Bump - Back in stock at this price *** Looking for a good price on a new office chair? There's a very good deal on this Mid-Back Bonded-Leather Manager's Chair from Staples Canada just now. It was originally priced at $109.96, but you can pick it up for only $59.96 with free shipping!
There's a $50 discount on this item just now and it's due to expire on the 3rd March 2015, or while stocks last on the deal. It's a very low price for this item!
A brief spec for your perusal:
Seat Height Adjustment
Tilt lock and tilt tension adjustment
Padded Arm Rests
5 legged base & 5 casters for support
Weight rated up to 250 lbs based on an 8 hour working day
The most important one of the above, I feel, is the seat height adjustment. As we are all different shapes and sizes, this is obviously a MUST in any office chair. You definitely want to be able to configure a chair to your own body.
In my home office, I use a comfy office chair similar to the one above, and I also use a footrest (like these). As well as the chair being good for posture, the footrest also helps make sure that my body is in a good position. It needs to be as some days, I'm in the office chair for up to 12 hours.
Now, the above office chair, the Mid-Back Bonded-Leather Manager's Chair… as it's only $60, you're probably not going to get an amazingly long lifespan out of this item. For some of the cheaper chairs from Staples, I often hear people with issues about the cushioning under the bum area wearing thin with use. Obviously, you can just stick a cushion under your butt and sit on that if things get thin!! There are a few reviews on the Staples site about this chair, and it scores an average of 3.8/5. But I can see that 18 reviews have commented on "Not enough padding" so this could be an issue with this chair regarding long-term usage. Keep that in mind when ordering!
(3rd March 2015)