BestBuy.ca - Samsonite Fashionaire 3-Piece 4-Wheeled Luggage Set – Just $299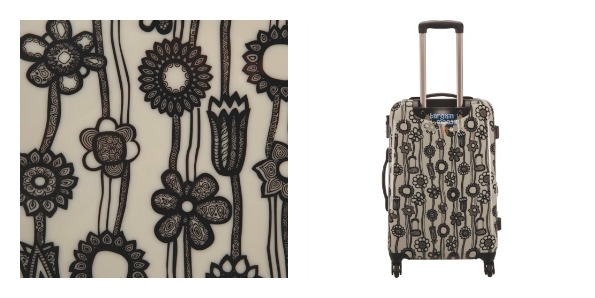 If you're like me and you're tired, annoyed and just wish to get rid of your old luggage set (or give them a Viking funeral as I'm tempted to do every time I look at them), why not take advantage of this fantastic offer, available until September 4, for Samsonite Fashionare Collection 3-Piece 4-Wheeled Luggage Set.
I took a trip to the UK a couple of months ago with my old luggage set, a wobbly, barely rolling piece of antique I've had for years. I was staying with a friend and she lives up a steep hill, and every second of the way up I had to fight the damn luggage because it just didn't feel like rolling that day, and when it finally did, it wobbled so much I pretty much had to drag the damn thing up the hill. By the time we got to her place, I was tired and had murderous ideas towards the luggage.
I'm getting this set, the offer is too good to pass by, and you should do so too. Even if the beige floral pattern isn't my thing, for this fantastic offer I'd take it in garish pink with neon highlights. The complete set sells for $799, a buck shy of $800, and now you can get it for $500 less than that. It's massive on savings for a top-of-the-line set of luggage.
They're durable, made from ABS/polycarbonate, which here you should read as "they can take a beating and keep going."
The interior has straps built-in to keep the contents of your bag from moving around too much or bunch up.
The inside of the lid has an additional zipped compartment, if you need more space for your things.
The wheels spin, allowing you to maneuver through the airport and people, and not have to adjust your grip or even lift the luggage, as I had to do repeatedly during my last trip.
I'm a bit paranoid, I admit it, so I'm always concerned about the safety of my stuff while I travel, so I have padlocks, with keys or combinations, so the fact this Samsonite Fashionare set has built-in locks just sells it to me even more.
Supplies and time are extremely limited, so stop reading and just like me, get rid of your old luggage and replace it with this Samsonite Fashionare 3-Piece 4-Wheeled Luggage set for $299 only Bestbuy.ca and just until the 4th of September! Shipping will be free as this purchase is more than $25.
(Expiry Date: 4th September 2014)