Best Buy: Online Boxing Day Sale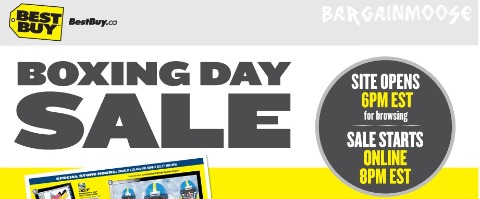 Best Buy is currently offline but is releasing their Boxing Day online sale at 8pm EST! To make sure our Moosers are all prepared, I have got the Best Buy online sale flyer and uploaded it here in pdf format so you guys can take a look. Best Buy's website is closed right now, and will re-open in about an hour, 2 hours before the sale.
I immediately noticed the $50 off the vtech 4 cordless handset with answering machine, only $59.99 because we recently replaced our phones and I wanted the vtech but we got a different brand because it was cheaper at the time. Wishing I had held out for this deal! They have an absolute ton of deals, I really urge you to look through the flyer before this sale comes online!