Best Buy Canada: TomTom 5" GPS Only $119.99 (Expired)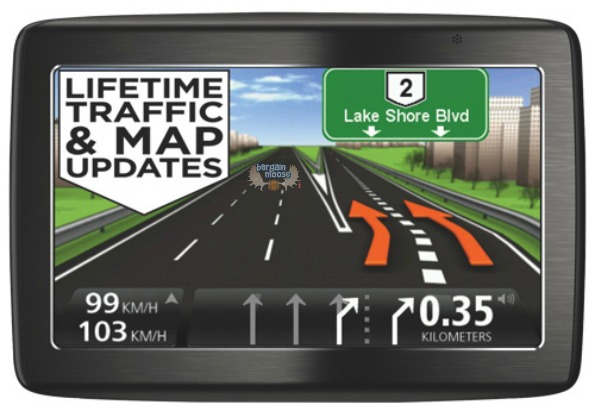 Best Buy is having a two-day sale with a number of items on sale. One that particularly stood out to me was the TomTom 5" GPS with lifetime map updates for only $119.99, was $199.99. Checking out other stores for their prices on this item, I found it at Staples for $169.95 and Factory Direct for $129.95, so this is the best deal.
As an added bonus, when you buy any GPS system, you'll get this Roots Hard Shell carrying case for 5" GPS systems for only $11.99 (valued at $24.99). Just add it to your cart along with your GPS.
Since I have a smartphone, I sometimes feel like I don't need a separate GPS system. That is until the one on my phone decides to crap out on me at the worst time. It is also not very useful when I'm on the phone (speaker of course), or when the battery is dying because I find the GPS on my phone eats my battery like cookie monster eats cookies.
This one is really cool too, packed with features you never knew you needed until you had them and can't live without them. It incorporates the swipe feature to move from screen to screen or zoom in on the sharp graphics or intuitive menus. They have lifetime map updates so you'll never get lost in your friend's brand new subdivision.
You know how some GPS systems take you on a wild goose chase down dirt roads and the wrong way down a one-way street? This GPS system uses IQ Routes to take you the smartest and fastest way. You also have lifetime traffic updates so you'll miss out on sitting on the highway for hours behind that stalled car blocking four lanes. I know you'll be sad missing out on that fun. You'll also be able to talk to your GPS when you are lonely and tell it exactly where to go (or where you want to go, it is your choice). Pair it with your phone to see your incoming call information, although I always suggest pulling over for this, and you can even talk hands-free through the device.
Another thing that bugs me about some GPS systems is that you can't always tell where you are supposed to turn. It says 250 metres, but I have really poor spatial awareness and always turn too soon. This systems has Advanced Lane Guidance to show you exactly what road to take.
Shipping will be free since your purchase is over $20.
(Expiry: 5th January 2014)