Best Buy Canada: iLuv iPod Speaker Dock Was $40 | Now $10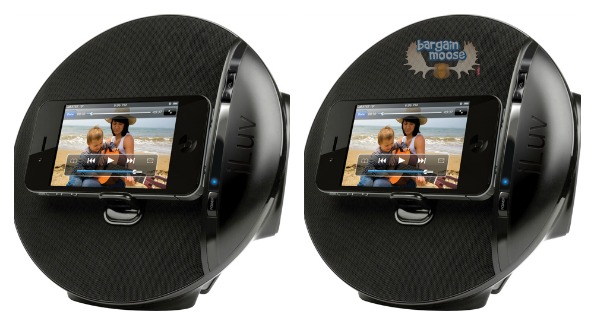 Best Buy's got a great deal on right now on the iLuv iPod speaker dock that was $39.99 and now $9.99. Future Shop also had this deal, but it went out of stock very quickly and I suspect Best Buy may too, so get your hands on it quickly!
Basically this is a stereo speaker dock that charges your phone or iPod and plays your music at the same time. I just got myself an iPod so this would be super handy for me for on-the-go. I can even give it to my kids to play the music on my iPod in their rooms. I have stereo speakers on my desk, so I wouldn't need it for that, but I would spend $10 so my kids don't have to sit in my room to listen to music!
Even while it is docked, you can use the net, play games or watch videos as you can dock it horizontally or vertically.
They say the speakers are clear and dynamic. This is compatible with:
iPhone 4/4S, iPhone 3G/3GS, iPod touch 1G/2G/3G/4G, iPod classic, iPod nano 1G/2G/3G/4G/5G/6G, and iPod video
Out of 14 ratings on Best Buy alone, this speaker dock has a 4.1 star rating out of five. I don't see many complaints at all about it and the only complaint I really saw was that it wasn't cordless and that it was pricy. I guess we've taken care of complaint #2.
So far works great! Nice sound, charges the ipod quickly, easy to use, and nice shape/design. A little pricey and would be cool tto have a cordless options (such as batteries or the unit charges itself), but other than that no complaints!
Shipping is free on orders over $20 at Best Buy, so it might be best to get yourself a few of these. If you just want the item itself, shipping is a very small fee of $2.99, which is awesome!
(Expiry: 4th March 2015)