Best Buy Canada: Turtle & Monkey Griffin KaZoo Stylus Pens Only $2.97!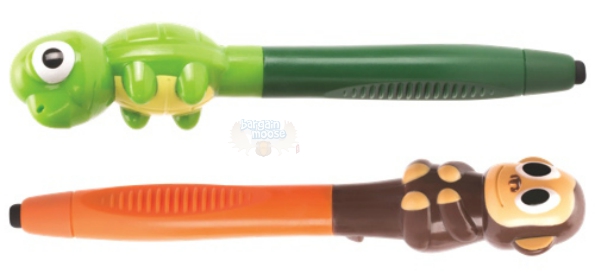 I think I have stumbled across the most adorable stylus pens on final clearance at Best Buy Canada. While Best Buy does not list the original price, I have seen these pens priced as high as $36 elsewhere. You can purchase one (or both) of the Griffin KaZoo Stylus Pens for just $2.97 each. While shipping is free on orders of $25 or more, these little stylus pens are available for free reserve in store depending upon your location.
Allow me to give you a quick rundown on pricing at other companies. First of all, these are really hard to find in Canada so I have also used some US companies to price compare. Amazon Canada marketplace sellers start their prices for this stylus at $19.95 plus shipping costs on top of that. Now for the US price comparisons:
$9.99 USD @ Newegg.com
$36.76 CAN @ Overstock.com
$13.79 USD (monkey) @ Amazon.com
$8.99 USD (turtle) @ Amazon.com
Even at the cheapest price in the USA - $8.99 - that coverts over to $11.80 CAN. As these styluses are under $3 at Best Buy Canada, they are a fantastic deal. I would recommend these for children or for children at heart.
The stylus features a soft rubber tip that is perfect for mimicking your finger without leaving finger prints or smudges on your screen. I find these are fantastic for scrolling down a recipe while baking instead of coating your phone in flour, butter, and more. I could have really used one of these just yesterday when I made a spiced pumpkin cookie (and burned three of my fingers... ouch).
Styluses are designed to give the user fine, precise control, making it ideal for drawing, sketching, photography and flight simulator apps. They are also useful for children learning to draw or to trace their letters. As each stylus has an animal-inspired design etched onto the barrel, these are great styluses for kids. The integrated clip lets you affix the stylus to something larger than it so you do not lose the stylus. If you have a book-style tablet or smart phone case, then you can just clip the stylus to the case.
These little stylus pens are a great buy. Reserve one online for pickup at your local store or add one to a larger order for free shipping.
(Expiry: Unknown)