Best Buy Canada: FILA Casual Men's Watch Was $83 now $30 & Free Shipping (Expired)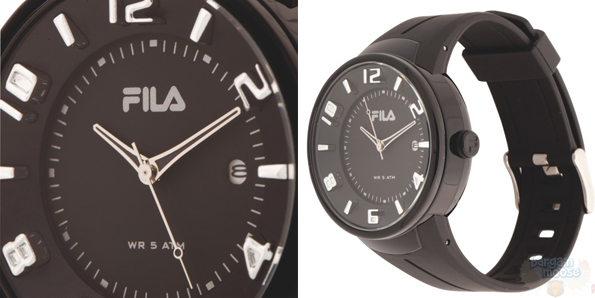 With the influx of cell phones in our society, you may notice that there are not as many people wearing watches nowadays. After all, since you're able to already "tell time" by pulling your cell phone out of your pocket, I can understand why people may not find it important to wear a watch. However, isn't that what makes something stylish? You can stand out from the crowd in a positive way by rocking a high quality watch, and today's deal at Best Buy can help you do just that - while saving some of your hard earned cash! Today's online deal at Best Buy is for a FILA casual men's watch (38 - 030 - 002) with a black band and black dial, which you can get for only $29.99 (plus free shipping). What makes this deal monumental is the fact that it's $53 off of Best Buy's regular price, and you won't find it for this cheap anywhere else!
Though this deal is valid until September 2nd, it's important to remember that quantities are limited, so get this deal while you can. FILA is one of the most reputable brands out there, and this casual men's watch looks sleek, sophisticated, and expensive.
At $29, you're saving big - after all, it costs $82.98 at Future Shop. The lowest price I'm able to find this FILA casual men's watch for is $75 at Shop.ca, which is still $45 more than the price you'd be paying at Best Buy. In fact, this deal is so enticing that I'm going to actually purchase one! I haven't owned a watch for about 12 years (like many people, I stopped wearing one when I got my cell phone), so I actually look forward to having this FILA watch occupy my wrist. It can also help you look professional at your workplace, which can always be beneficial. Here is a review from a satisfied Future Shop customer:
"For anyone who wants a good basic watch this is a good choice. The band material is a rubbery type substance, may be silicone. During this time of year (late fall) it is not a problem but during the summer it may become sweaty. Knowing what I know now, I would still buy this watch and would consider giving one as a gift. I would also be interested in buying another FILA model sometime."
Quantities are limited, so get this watch while you still can! Good luck, Bargainmoosers, and enjoy your holiday!
(Expiry: 2nd September 2014)