Best Buy Boxing Day Flyer Released! (Sales On 24-28 Dec 2014)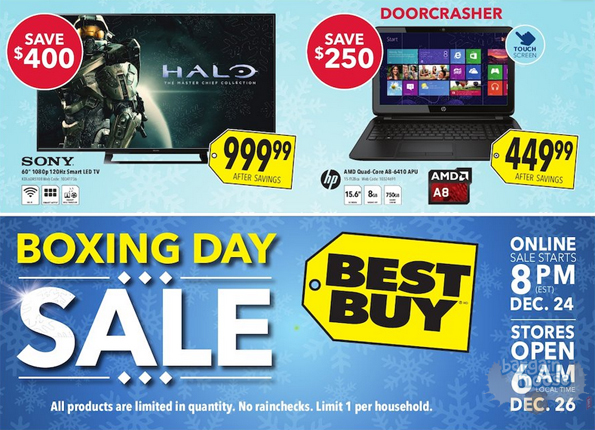 Yesterday I wrote about a short-lived deal where you could get $25 off $100 online @ BestBuy. It didn't last for long so I hope some of you got in on the action. If you did not, perhaps you'll be interested in the Boxing Day sales flyer which they have just released!!
The flyer deals aren't yet available online – the official sale is due to start at 8PM EST on the 24th of December 2014. So, if you're interested in bagging the bargains early, make sure you are online for the start of the sale.
If you're going to brave the Boxing sales in-store, you'll want to be there at 6am (!) on the 26th. I'm afraid I will probably have a little too much wine in my system to be out and about that that hour of the day.
Anyway, there are a lot of deals in this 39 page flyer, so have a read of it yourself. As usual here on Bargainmoose, we like to highlight a few of the items to show you how good or bad the deals actually are.
Sony 60" 1080p LED Smart TV (KDL60R510B) – was $1399.99 will be $999.99 – This HUGE TV will be reduced by a further $400 on the marked price just now. I cannot seem to find the exact model on their site just now, I can only see the model ending in A, so they might update that before the actual sale. The web code shows this TV, so it could be that model and just a typo in the flyer. This TV is around $1300 everywhere else.
HP 15.6" Touchscreen Laptop – was $699.99 will be $449.99 – This looks like a pretty decent little laptop for the price. Spec wise, it's a AMD Quad-Core A8-6410 APU processor with 8GB of RAM. It has a 750GB hard drive, which should be pretty good for home use.
For those who are more of the Apple persuasion, there's a silver Apple 13.3" MacBook Air on offer – down from $1199.99 and it will be $999.99. I'm a PC girl so my knowledge on Macs is slightly lacking, but from the spec I can see that this is a 1.3GHz dual core Intel Core i5 processor and it also comes with 8GB of RAM. Similar in spec to the HP laptop I've mentioned above, but twice the price!!
For a slightly smaller TV, the Black LG 32" 720p 60Hz LED TV (32LB520B) is now $299.99 and it will be dropping by a further $70 down to $229.99 with free shipping. Shweet price for a little TV! I remember 15 years ago when a 32" TV was considered to be a fairly large TV… but not any more! This LG TV only seems to be sold by Future Shop and Best Buy, I cannot see it priced anywhere else.
Remember, I've price compared all of the above deals as of TODAY. Competitors prices are going to change over the course of the Boxing Day sales, so make sure you price compare again, if you are actually buying anything.
Here are a few of the first pages of the flyer, but you can see them all here.
[gallery link="file" ids="200685,200686,200687"]
(Expiry: 28th December 2014)