Asus Chromebook C201 11.6", $189.99 (After Save $40) @ Best Buy Canada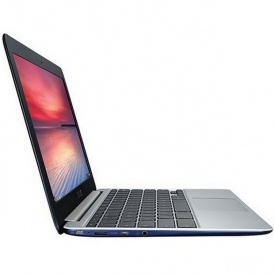 If you have a tablet, notebook and mobile phone, you are still missing out on an important electronic gadget in your life. The Google Chromebook! I have had my eye on one of these for quite some time, and I think I will bite with a price this good. Best Buy Canada is selling the Asus C201 Chromebook for $189.99, after saving $40!
The Google Chromebook is a compact device similar to a notebook but works through a different operating system - the Chrome Operating System. This Chromebook is fantastic for browsing the web, and watching videos such as youtube. It's not intended to actively store data, since there is only 16 GB of space on the hard drive, but you do receive 100 GB of free google drive space for two years.

Can you imagine having up to 13 hours of battery life? The wifi is dual-band 802.11ac (which is the fastest wifi speed available, depending on whether your router offers that or not.) It is still backwards compatible with other wifi setups, as it supports: 802.11a/b/g/n/ac. This Chromebook offers bluetooth 4.1, and it has a spacious touchpad, too. The webcam is an HD cam, which is perfect for communicating with your friends via video.
I think one of the reviews on the Best Buy Canada website that will have me clicking to finalize my purchase is probably this one, by JJ from Vancouver, B.C.:

"I am a university student who wanted a machine that was LIGHTWEIGHT, PORTABLE, and had LONG-LASTING BATTERY POWER but I didn't have the money to invest in a Macbook. And honestly, I'm so glad I got this instead! For a fraction of the price I got a fast computer that does everything I need it to. I use Google Docs to take notes and work on my papers, and Google Docs is also available offline so I can do some editing while I'm on the bus etc. I love the chrome interface, it is SO SIMPLE. I have a desktop at home where I stream movies and use skype etc. so I wouldn't recommend a chromebook as your ONLY device but it is perfect for what I need it for! So affordable and man does the battery last forever! Highly recommend for students."
Shipping is free!
(Deal expiry: June 30, 2016)