Amazon Canada: ViewSonic 22" Monitor Only $140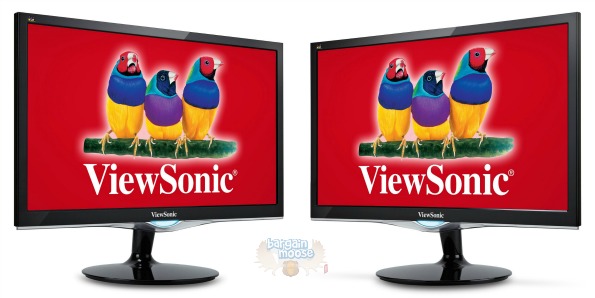 If you are in the market for an LCD monitor, Amazon has a hot deal going on. Get the ViewSonic 22" monitor for only $139.99, with a regular price of $217. This monitor will also ship for free.
While there is only one left in stock, you can still order, but your shipping time will just be longer as they will need to wait until the product is restocked.
I price compared with a few other placed and found this sale monitor for $167.12 + shipping at Canada Computers, $169.99 + $9.99 shipping at Newegg.ca, and $159.97 + $21.65 shipping charges at Tiger Direct Canada. No matter where I looked, Amazon Canada had the best price on this little monitor.
This perfect little LCD comes equip with Full HD 1080p 1920 x 1080 resolution and features two built in speakers so you can listen to your tunes through your monitor instead of having to buy external speakers or relying on your iPod's crappy built in speaker for tunes. The two-millisecond liquid crystal response time reduces blur in fast action scenes and is perfect for gaming sequences. Another gaming feature is just that: game mode. Game mode is a fantastic feature that brightens dark scenes to increase your ability to see behind all those scary corners so you never miss a thing. It is a sweet feature when you are playing first person shooter-style games.
The contrast ratio of 50M:1 provides nice crisp images which are imperative to really enjoy the stunning visuals of most fantasy based game worlds. The monitor has excellent reviews on Amazon Canada so far including this rather boisterous reviewer:
Puts my DELL monitor to shame when looking as the sharpness of the pictures and vibrant colours. For the price I have no regrets.
Now that television networks, movie rentals, and Netflix are all over the internet, external monitors are really finding a second use as larger displays for laptops as well as desktops. External monitors are also popular with gamers who buy expensive 15" - 17" gaming laptops for the speed and transportability, but at home want something bigger to see all the high quality graphics that their gaming computer allows them to use. With an external monitor, you can watch all your favourite programs while hooked up to your computer. I think that a computer and good quality external monitor are soon going to replace the television as we know it.
(Expiry: Unknown)