Amazon Canada: Up To 65% Off Lexar Professional Compact Flash Card 32GB & 64GB (Now Just $47 & $75)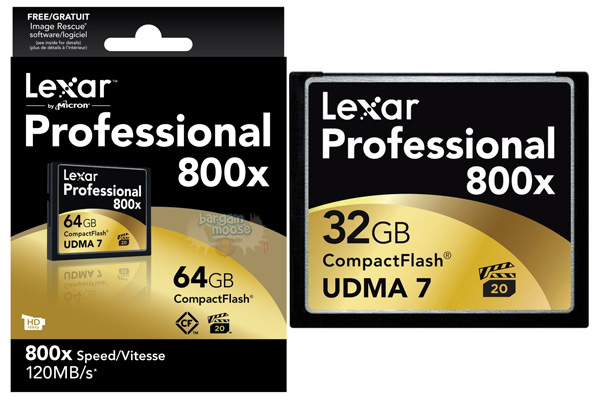 Need a new flash card for your camera? Amazon has a great deal on the Lexar Professional CompactFlash card: you can get the 32GB for $46.99 (reg. $114.99) or the 64GB for $74.99 (reg. $214.49).
Essentially the savings are as follows: 59% off for the 32GB and 65% off for the 64GB one. Both feature the following specs:
Up to 800x (120mb/s) transfer speed
Captures 1080p full HD & 4k videos with a DSLR, an HD camcorder or a 3D camera
High speed file transfer
If you want, you can also download Image Rescue at no extra cost with purchase of either one of these flash card. It's a program that helps you recover most photos and select video files if you happen to accidentally delete a file. It can also help to potential recover a file if the batteries on your device happen to fail right in the middle of saving a picture.
Other sizes of this flash card are also on sale but for not nearly as big of a discount. The 16GB one for instance is more expensive than the 32GB one! It's on sale for $54.84 (reg. $74.99), while, as I already mentioned, the 32GB one is $46.99. The 128GB one is on sale for $264.87 (reg. $362.99) but at that price, you may as well pick up two of the 64GB for a total of $149.98 instead.
Overall, reviews are very favourable for the Lexar Professional CompactFlash card with 14 reviewers giving it a general consensus of 4.7/5 stars. Here's one example:
Great product. Arrived right on time, and just in time for a grizzly bear photographic trip on the west coast of Canada. Performed well.
Another reviewer noted the following:
Recommend this product to anyone shooting in raw or even jpeg (it may take you awhile to load it up). Great for shooting video as well
Other reviewers also praised Amazon's fast shipping. In fact, I can attest to this as well. I often order from Amazon and am always surprised at how quickly my purchases arrive. Since Amazon ships orders over $25 for free, you're sure to get either one or both of these flash cards shipped at no extra cost.
(Expiry: Unknown)