Amazon Canada: Lexar JumpDrive S73 256GB USB Drive Was $275 | Now $80 & Free Shipping (Expired)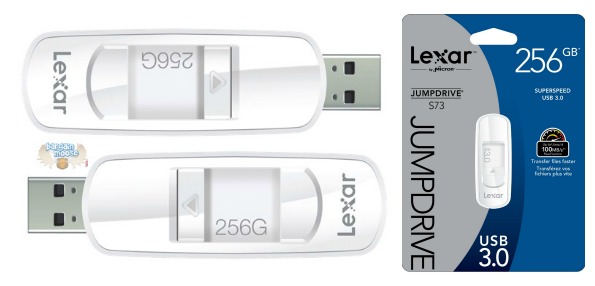 Amazon Canada has a worthwhile deal on the Lexar JumpDrive S73 256GB USB Drive. Originally $275, this massive external flash drive is now on sale for $79.99 with free shipping (as it costs over $25). I would jump on this deal quickly - before it sells out.
Seriously, this price is to die for if you need this sort of tech in your life. Let us go over a quick price comparison so you can see how good this deal really is right now. The exact same Lexar JumpDrive S73 256GB USB 3.0 Flash Drive retails for:
$249.99 @ Future Shop Canada
$249.99 @ Best Buy Canada
$229.92 @ Staples Canada
$183.65 + shipping @ HookBag Canada
As you can easily see, this price is virtually unheard of at other retailers. I even looked in our blog archives and found this Lexar 256 GB drive was on sale once for $110 at Best Buy.
Now, we all know you can get a 1 TB external hard drive for around $70 these days, but this is a very different kind of storage. You cannot fit an external hard drive in your back or front pocket. You cannot easily take it to meetings and produce charts, data, photos, and video at the touch of a button. External hard drives are just not that portable - especially any that require external power.
With the 256 GB flash drive, you have space at your fingertips. Merely insert the device into the USB station on any computer for instant access to the documents you need. These are perfect for travelling, excellent for photographers, and can even be used to transfer data from one computer to another. Load the flash drive up with pictures and transfer them onto the grandparent's computer the next time you see them. The options are endless.
This is supposed to be a 3.0 speed flash drive, but a few reviewers have said they could not get up to that speed. Besides that complaint, most other reviewers quite love the little drive:
I bought this terrific USB flash drive to store my collected photos and videos. It has large capacity and very fast speed whatever for reading or writing. It's also light, stable and convenient to use. I am very satisfied with this item.
I suggest you read a few more reviews to make sure this is the right size of drive for you.
(Expiry: Unknown)