50% Off Aukey Quick Charge 10400mAh Portable Battery Only $20 @ Amazon.ca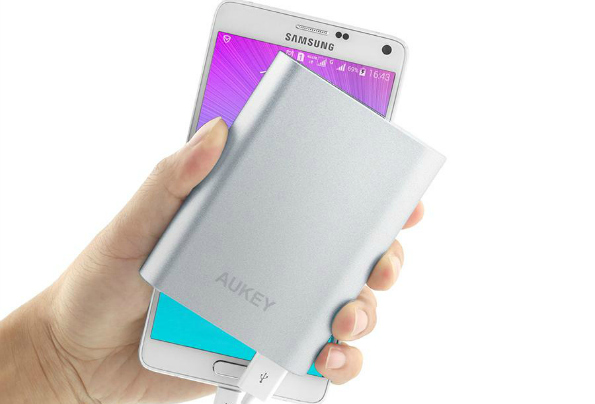 Don't you just hate seeing that depleted battery icon on your phone or on any other gadget that you own? Recharge on the go with the Aukey Quick Charge 2.0 10400 mAh portable external battery fast charger. The list price is $39.99, but it's now on sale for just $19.99 at Amazon. Receive free shipping on orders of $25 or more.
Only the white/silver colour is on sale for this price. The black version still costs more: it is at $29.99. Now, I price compared this deal with brands of similar quality. RavPower sells their 10400 mAh portable battery for $25.99 and Anker (the brand I love) sells their 10400 mAh power bank for $29.99.
In terms of devices that you can use this portable battery with, the list is very long and you can check it out on Amazon's product description but in general, you can charge devices from Samsung, Google Nexus, HTC, LG, Mi and even the Asus Zenforn 2. It is also 5V/2.1A charge compatible with various Apple models as well but it appears not to 'quick charge' for them.
If you need something small to keep your phone running at all times, then grab this device. I personally have a Anker 13000mAh portable battery and while I love it, it's a little bulky and heavy to carry around easily. My colleague Brooke also has an external battery pack and loves it:
I was hiking with my dogs and my phone died, and I got lost. I seriously don't know how I would have managed if I didn't have that thing.
I have had similar experiences where I have been out out and my phone battery depleted faster than I expected (I blame Google Maps). Then I need Google Maps to get out of where I am!
Looking around, I found a review from Droid Life about how "Aukey Made a 10,000mAh Quick Charge 2.0 Battery Pack and It's Pretty sweet" -- pretty sweet indeed, especially with reviews like that! According to the author of the article, the Aukey portable charger can hold about 3 charges, which let's be honest, you really don't need that much more!
Shipping is be free as Amazon ships orders over $25 and this portable battery also qualifies for Amazon Prime.
(Expiry: Unknown)