Amazon Canada: $20 off Kindle Paperwhite eReader - Now $119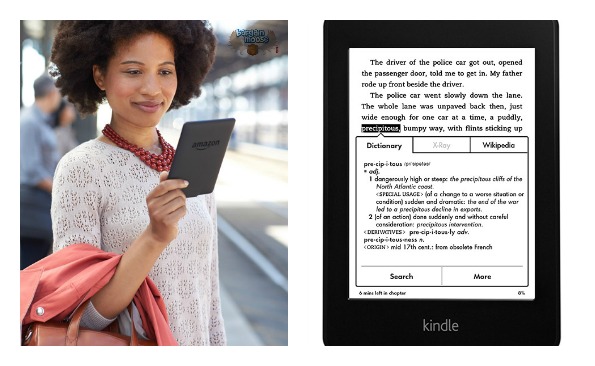 Purchase the Kindle Paperwhite eReader at Amazon Canada for $20 off. The Paperwhite retails for $139 but is now on sale for $119.
Today's market presents many difficulties for eReaders. When everyone owns a tablet, laptop, or a smartphone on which you can read books, where is the place for eReaders? The job of companies that build eReaders is to differentiate them from the competition. What makes an eReader different and what makes it better than reading on those other devices.
The main difference is the screen. A tablet or phone is designed to be a multi-media device. They are built with brilliant but highly reflective screens. Have you ever had difficulty reading your phone the second you step outside? I have to turn up the brightness to maximum on my phone before I go outside or else I cannot even see enough to get into my phone to turn the brightness up. With the Kindle Paperwhite screen, this is not an issue. The screen mimics paper and there is no glare in bright light.
Battery life is another defining feature of an eReader versus a tablet. With a tablet, you can expect to charge it every day without fail if you are using it. At best, you can get away with a charge every couple of days. The Paperwhite eReader can go up to eight weeks without charging (Wi-Fi off). I am estimating it has around 30 hours of continual use on one charge.
The Paperwhite also comes with a built in light for late night reading and it stores up to 1,000 books. That is enough to keep you reading for a very long time. Another benefit of an eReader over a tablet is weight. Tablets are getting thinner and lighter with every new version, but they have not managed to reach a mere 206 grams, which is the weight of the Kindle Paperwhite.
The Kindle Paperwhite 3G is also on sale from $209 down to $189. It has all the same features as the above eReader and it comes with built in 3G. It also weighs a tad bit more at 215 grams.
I am still in love with physical books, but I do hate the space they take up. One day I might just have to change over to an eReader (maybe when they improve their graphic novel section).
Receive free shipping on orders of $25 or more.
(Expiry: Unknown)