ADATA Dash Drive Elite 64GB for $38.78 & Free Shipping @ MemoryHouse Canada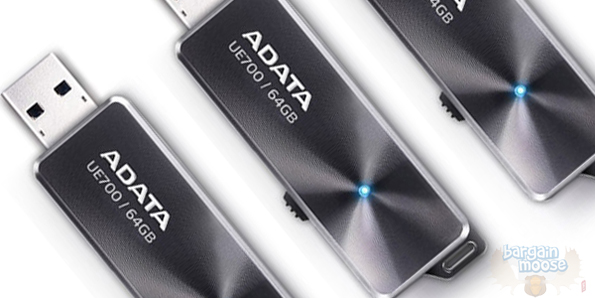 If you are in need of some more portable electronic storage for all your files and photos, consider the deal on this 64GB ADATA Dash Drive Elite which is currently on special offer rat Memory House Canada. While the regular price is not stated on MemoryHouse's page, the RRP is around $70. And just now, you can get it for only $38.78 with free shipping to your home.
We've not mentioned Memory House on Bargainmoose before. They're an electronics retailer (actually a memory specialist) based out of Richmond, BC.
This is the actual name of this item: The ADATA Dash Drive Elite 64GB USB 3.0 200MB/SEC Read 100MB/SEC Write. And again, my brain doesn't seem to want to blog very much today, so I asked my partner for some words with his opinion on this Adata pen drive. He said:
That's a great deal for an extremely high capacity pen drive… what are those other features? Is that a lock on it?
He was looking at the little slider button you can see in the image above. It's not actually a lock as such, it's a slider which lets the URB attachment move in and out of the drive housing, protecting it from any potential damage.
Oh, if it's USB 3.0, that's very good. It's got reasonably high read and write speeds too. That's especially useful for such a high capacity pen drive, the equivalent of a half dozen DVDs!
Furthermore, when referring to the read/write speeds, one reviewer stated:
That's very good. It's faster than 99% of the USB 3.0 flash drives out there and it's affordable. 64GB is more than enough to backup your HD media.
Sounds good!
Price Comparing!
When I decided to write this deal, I initially was writing it up as a deal from NCIX. They were offering this item for $39.99 with free shipping. But in my price comparing work, I found it cheaper elsewhere.
For a price comparison on this Adata drive, this isn't available at many other stores. I did find it at Best Direct Canada at a price of $38.09, but shipping was an extra $6 to Ontario, bringing the price up to around $44.
So, while there's not a huge step up to the next best price at NCIX, this deals at Memory House is a really low price point for such a high capacity and speedy pen drive.
(Expiry unknown)