(74% Off) Best Buy: Disney INFINITY 1.0 & 2.0 & Toy Box Starter Kits Only $20 Each!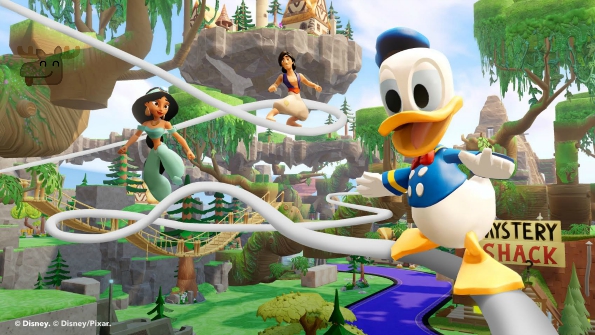 Best Buy Canada has a huge sale on Disney Infinity 1.0 and 2.0 Starter Kits. This sale includes several toy boxes as well. Some of the toy box packs and the 1.0 starter packs were $59.99 and are now $19.99. The 2.0 Starter Packs were $74.99 and are now $19.99 each. The 2.0 Disney Infinity Marvel Packs are approximately 74% off their original price.
Price comparisons depend upon which pack you are buying and for which system: Playstation, Nintendo, Xbox, and more. I price compared a bunch of the packs with Amazon and found the prices substantially higher there.
For example, the Disney Infinity 2.0 Marvel Super Heroes Starter Pack costs $38.99 no matter what platform you buy it for. However, many of the other packs are higher or not available anymore. I assume that this is Best Buy Canada's clear out sale for the same packs.
I like this sale because you can pick up any pack for the same price. That includes the Disney INFINITY 2.0 Toy Box Starter Pack, Disney INFINITY 2.0: Marvel Super Heroes Starter Pack, and the Disney INFINITY Starter Pack.
One pack is cheaper than $19.99. You can purchase the Disney INFINITY Starter Pack (Nintendo 3DS) for just $9.99, originally $69.99. That is nearly 85% off the original price for this starter pack. Other than this one, all the rest are the same price.
There is a second deal occurring in association with this one. You can save $8 when you buy two or more Disney 1.0 or 2.0 figures. Each figure currently costs $10.99 so an $8 discount on two figures brings each figure down to $6.99. That is a great discount and will allow you to buy figures not included in the current kits. You may want to pick up the very popular Disney INFINITY 2.0 Baymax from Big Hero 6. I love that movie. Try Disney INFINITY 2.0 Aladdin in celebration of the movie being re-released from the Disney vault.
This is a really hot sale for all of the Disney Infinity figurines and starter packs. I have long thought of picking up a Disney Infinity Starter Pack but the price was just out of my league. Maybe I will pick up a simple starter kit for my PS3 and add on a few figures that I like.
Shipping is free on $25 or more.
(Expiry: 20th August 2015)