(58% off) Yak Pak Luggage only $29.97 & Free Shipping @ Best Buy Canada!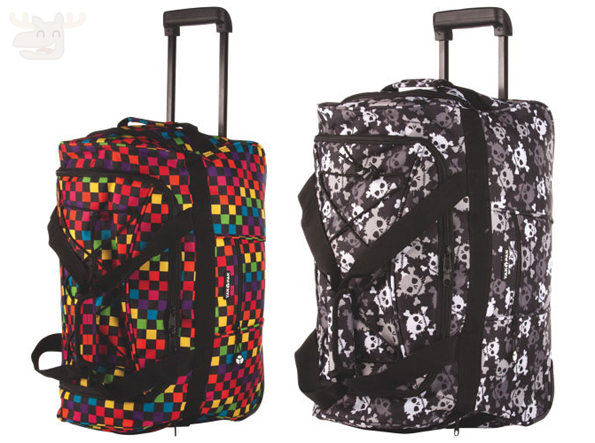 While browsing the final clearance pages online at Best Buy Canada, I saw some incredibly funky pieces of luggage here in the luggage clearance sale. A couple of pieces of luggage really stood out both because of their colouring and their discount amounts – these two Yak Pak wheeled duffle bags. Originally priced at around $72, they're now only $29.97 which is a 58% discount. Plus, as they're over the $25 minimum, you'd get free shipping to your home as well!
As you can see, you have two choices in colour. The first is in a checkered multi-coloured pattern, and the second is in a darker skulls pattern. I really like the fact that these are like a normal duffle bag, but the wheeled brace on the bottom makes it incredibly useful.
There's not really a whole lot more I can say about the bags themselves, other than the sizing. They measure 52cm wide by 31cm high by 29cm deep. These could be useful if you want to cross-check hand luggage sizes for air travel, if that's one of the intended uses of the bag.
There is another colour option too, but the deal isn't quite as good as the above. The splatter multi-coloured duffle is $34.97, but that's only a 51% discount on the original cost. You might prefer that colour scheme for the extra five bucks though.
These Yak Pak bags aren't for sale at many other locations in Canada, but I did spot the skulls bag for $160 @ Sears!!
If you know anyone heading off to university or back-to-school, this could be an ideal piece of luggage for that. When I went to uni, I lived in the dorms but travelled home every weekend as it wasn't very far. And to be able to go home at weekends and get my laundry done for me, was a boon. :) This looks like the ideal size of bag for that kind of trip.
(Expires: 10th September 2015)