Tim Hortons Roll Up The Rim Is Back!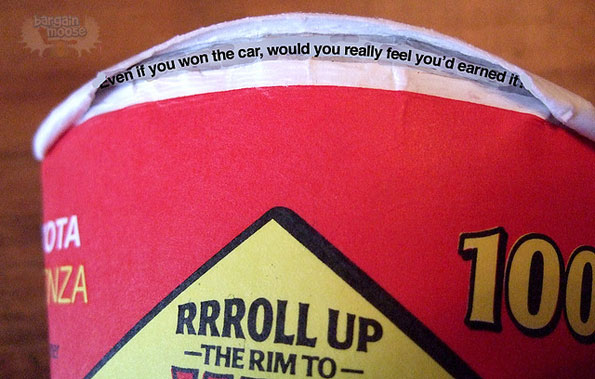 It's BAAAAACK! Tim Hortons' Roll Up The Rim To Win is back and ready to rumble!
Starting today, make sure to stop by your local Tim Hortons for a chance to win one of the following prizes:
50 - Toyota Camry XSEs
100 - 55" LG OLED Smart TVs
25,000 - $100 Tim Horton's gift cards
Millions - Food or Coffee vouchers
You can also play the Roll Up Roulette online for a chance to win:
1 - Toyota Camry XSE
8 - $1,000 Visa gift card
1,100 - $50 Tim Hortons gift cards
60 LG tablets (chance to win daily)
Did you know that Tim Hortons' Roll Up The Rim campaign first began in 1986? Even since then, they have been offering bigger and better prizes every month of February.
For those of you who are unfamiliar with this campaign or perhaps, have never really been big fans of Tim Hortons, the way it works is that with every purchase of any kind of hot beverage, you will have the chance to win one of the prizes listed above.
The great part about it is that it can be just about any beverage from a coffee to a tea or even a hot chocolate but just make sure that it's a hot one because if you order a cold one and then as for a winning cup, then Tim Hortons employees may just look at you a little funny.
Speaking of which, don't even try to ask for a winning cup ahead of time, as some people do sometimes. That's not how it works.
You first need to order a hot drink, then you need to fully drink it and then you roll up the rim. Plus, there's not even any need to use your teeth but you can if you want. It will be just that much yuckier for the employees to handle your winning stub. ;)
If you won a prize like a free coffee or donut, then there is absolutely no need to keep the entire cup. Just tear off the part that say what you won and bring it with you next time you go to Tim Hortons.
Good luck Moosers and let the odds be ever in your favour! Make sure to let us know if you win something, especially one of the bigger prizes.
(Image Credit: Wayne MacPhail)